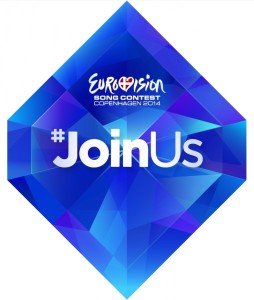 Diamonds Are A Girls Best Friend, we were told in the 1949 Broadway edition of Gentlemen Prefer Blondes. Today it was revealed that the theme art for the 2014 Eurovision Song Contest is a single diamond. Host broadcaster, DR, says that it will work well with their plans for the contest.
"A diamond is sparkling and strong. It has many different aspects and shows the diversity which will be shown on the stage at the Eurovision Song Contest". That is how Executive Supervisor, Pernille Gaardbo describes the diamond that tonight was presented as logo, the so called theme art for next year's Eurovision Song Contest.
Host broadcaster DR is currently busy getting the old raw factory buildings B & W hallerne is turned into a fantastic arena for the upcoming contest, but Pernille thinks the diamond will fit right well: "It shows the visual thinking we have for Eurovision 2014: The raw B & W combined with the sparkling show and in the middle on the stage, the diamond as a combining force, right there where it all takes place". 
Pernille Gaardbo adds: "If we manage to do what we dream about with the show – to move and touch people – then that is the finest one can do. That is what we want to express with the diamond". And as she is saying, let's not forget that "A diamond is both energy collecting and energy giving".
The three live shows of the 2014 Eurovision Song Contest will be held on the 6th, 8th and 10th of May 2014 in the Danish capital Copenhagen.
You might also want to read:
TDC presented as partner for Copenhagen 2014
Do 10.000 spectators turn into the world's largest projection screen at Eurovision 2014? 
Eurovision 2014: Norway and Sweden allocated in each their semi-final