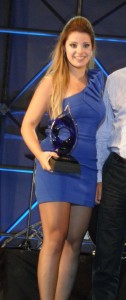 Deborah C has won the 2012 Konkors Kanzunetta Indipendenza in Malta with the song Jekk Nużaw Moħħna composed by Mark Spiteri Lucas and Joe Chircop .  Many other former Malta Eurosong performers took part in the festival and Kurt Calleja was the special guest with a mini concert during the interval.
The Konkors Kanzunetta Indipendenza is the most popular music festival in Malta after the Eurosong selection.  Many participants from previous selections took part including Danica Muscat, Marilena Gauci, Domenique, Stephanie Zammit (who sang with Baklava), Neville and Kylie Coleiro. 
The top 3 acts were:
1. Deborah C, who took part in the 2012 Malta Eurosong with Leila James and the song You Make Me Go UH UH. 
2. Marilena Gauci, she took part in the 2011 Malta Eurosong with He's A Demon.
3. Domenique, who took part in the 2011 Malta Eurosong with I'll Follow The Sunshine.
There was also a competition for new talent and this was won by Sarah Bonnici singing Bil-Bnadar B'Idejna and was composed by Joe Chircop and Miriam Christine (who represented Malta at the 1996 Eurovision Song Contest).
Kurt Calleja provided the interval entertainment with a mini concert including performances of his 2012 Eurovision Song, This Is The Night and his new single, Boomerang.
You can see the winning performance below by Deborah C.