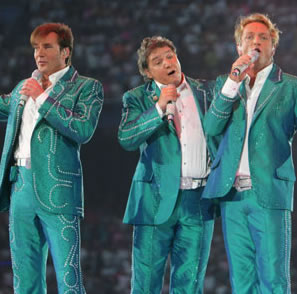 It is now officially announced that it is going to be the popular Dutch trio De Toppers that will represent the Netherlands at the 2009 Eurovision Song Contest in Moscow. This brings Gerard Joling back to the Contest after 21 years.
De Toppers consists of Gerard Joling, René Froger and Gordon. Gerard represented the Netherlands at the 1988 Eurovision Song Contest with the song Shangri-la. Gerard is among the best selling names in his country and together with René and Gordon, he will try to achieve a good result in Moscow.
Gerard Joling had it as a teenage goal to become famous, something he has certainly achieved. He has been attracted to "glitter and glamour" ever since he got his breakthrough in 1985 in the "Soundmix Show" with Henny Huisman, where he impersonated Don McClean by singing Crying. The song finished third in the big final.
Gerard's debut album Love is in Your Eyes sold gold even before it was released! In 1988, he represented the Netherlands in the Eurovision Song Contest and has been a top artist ever since. He is also a well known TV host and aside from programmes together with Gordon, he is currently hosting two programs ""Holland's Got talent" and "Sterren dansen op het ijs" (Dancing with the stars).
René Froger is also a well known artist with a lot of experience. He has released 25 albums, mainly in English. His first album in Dutch came in 2007. The first single Love Love Me is from 1987, but it took two years before he got the big breakthrough in 1989 with Alles kan een mens gelukkig maken (een eigen huis) (Everything can make a person happy – an own house).
For Gordon, the Eurovision Song Contest is something he has tried to achieve before with his participation in the national selection in 1990 and 2003.  As a singer, he is mainly known for Dutch songs about love and life, but is also a radio and TV host. He started the radio channel "Oz Radio" which is focusing on Gays. They started to air on the 1st of August 2008. He has worked together with Gerard Joling over many years, with, among others, the TV programme  "Joling & Gordon over de vloer", (Joling & Gordon are coming over) which is based on "The Simple Life" with Paris Hilton and Nicole Richie. The program continued in 2007 under the name "Gillend naar huis" (Screaming back to home), but without Gerard.
The Netherlands will have an open selection where De Toppers will be singing all the songs. Songwriters can submit their songs for them until 23rd of November and on 1st of February, the TV viewers will pick the song that will represent the country at the 2009 Eurovision Song Contest.