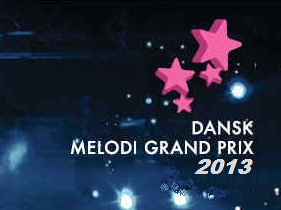 At a press conference, held at the arena that will be hosting the national final, the 10 participants for the Dansk Melodi Grand Prix was presented today. As usual it is quite a mix of newcomers and well known names that will fight to represent Denmark in Malmö in May.
Today it was revealed which 10 songs will be competing in the Danish final, the Dansk Melodi Grand Prix, on the 26th of January. The show, which will be the largest national final in Denmark, will be held in Jyske Bank Boxen in Herning – and that was also where today's press conference took place. 
The participants for Dansk Melodi Grand Prix 2013 are:
1. Frederikke Vedel – Jeg Har Hele Tiden Vidst Det (written by: Pernille Georgi, Thomas Reil and Jeppe Reil)
2. Brinck – Human (written by Niels Brinck) 
3. Kate Hall – I'm Not Alone (written by: Lars Halvor Jensen, Martin Larsson, Michelle Bell, Oscar Holter, Jakke Erixson and Simon Hermansen)
4. Louise Dubiel – Rejs Dig Op – Wildcard (written by: Casper Lindstad, Rune Braager and Louise Dubiel)
5. Daze – We Own The Universe (written by Thomas G:son and Peter Boström)
6. Simone Egeriis – Stay Awake (written by: Lars Halvor Jensen and Carsten Lindberg)
7. Jack Rowan feat. Sam Gray – Invincible – Wildcard (written by: Achmad Darwich, Jack Rowan and Sam Gray)
8. Emmelie de Forest – Only Teardrops (written by: Lise Cabble, Julia Fabrin Jakobsen and Thomas Stengaard)
9. Albin – Beautiful To Me (written by: Brian Risberg Clausen and Mads Haugaard)
10.  Mohamed – Unbreakable (written by: Morten Friis, Michael Parsberg, Peter Bjørnskov and Lene Dissing)
Short clips from the songs are available on DR's grandprix page.   
More about the names:
For fans of the Eurovision Song Contest some familiar names in the line up will be noticable. First of all Brinck, who represented Denmark at the 2009 contest with the song Believe Again. Simone has also tried the Danish final before as she participated in 2010 singing How Will I Know.
Daze won international fame in 1997 with their debut album Super Heroes – they have reached high positions on the charts in Belgium, The Netherlands, Norway, Sweden, Finland and New Zealand. This will be the first time they throw themselves into a competition like Dansk Melodi Grand Prix. Their song is written by Thomas G:son who will ring a bell to most. In total he has had 7 songs participating in the Eurovision Song Contest – and won with one of them; Loreen's Euphoria. He has once before won the Dansk Melodi Grand Prix, in 2010 when Chanée & N'evergreen sang his In A Moment Like This.
Lars Halvor Jensen co-wrote Brinck's Believe Again and Jedward's Lipstick so he has also tried the game before as sungwriter and the same can be said about Lise Cabble who won the Danish final in 1995 with Fra Mols Til Skagen sung by Aud Wilken and again in 2011 where A Friend In London sang her New Tomorrow.
Bryan Rice has participated twice in the Danish final; in 2009 as songwriter for Underneath My Skin sung by Christina Undhjem and again in 2010 as a singer where he came second with Breathing. This year his song is sung by Swedish singer Albin Ljungqvist, who lives in Copenhagen where he has been performing in the show Wallmans since 2006.
Another songwriter whose name is quite familar is Pernille Georgi. She was one half of the Danish duo Me & My, who after having had international succes participated in the Dansk Melodi Grand Prix in 2007 with the song Two Are Stronger Than One.  
The show:   
It was already known that the hosts of the Dansk Melodi Grand Prix will be Louise Wolff, who also was one of the hosts last year, Lise Rønne, who hosted the show in 2011 and Sofie Lassen-Kahlke, host of the 2012 Danish junior show, MGP.
As interval acts three former Eurovision Song Contest winners will perform:
Johnny Logan, who won the contest for Ireland in 1980 and again in 1987, plus wrote Linda Martin's 1992 winner song.
Brotherhood of Man, who won for the United Kingdom in 1976 with the evergreen Save Your Kisses For Me.
Herreys, who won in 1984 representing Sweden with their Diggi-loo Diggi-ley.  
The voting:
As usual the winner will be chosen via a combination of jury and televoting. After the 10 songs have been performed three of them will qualify to a so-called superfinal. These three songs will be performed again and a new voting round starts in order to find the winner, that will represent Denmark at the 2013 Eurovision Song Contest. In both voting rounds the jury and the televoting result counts for 50% each, with the advantage to the televoting in case of a tie. The jury, which you can read more about in the link below, consist of Jørgen de Mylius, Lis Sørensen, Maria Lucia, Cutfather and Kato.
You might also want to read:
Last year Soluna Samay represented Denmark with the song Should've Known Better. Below you can see our 3D video of that performance. We recommend watching it with our 3D glasses or similar equipment, but if you don't yet have that you can easily turn 3D off in the player below and watch it in regular 2D.