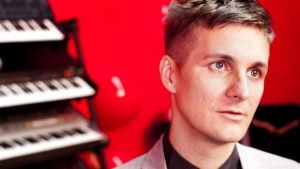 The biggest sport event this summer will be the World Championship in football held in Brazil. The official song is written by Danish Thomas Troelsen. He was one of the songwriters behind the German Eurovision entry from 2008 by No Angels. This time Jennifer Lopez, Claudia Leitte and Pittbull sings his song.
In 2008 No Angels finished 19th with the song Dissapear when representing Germany at the Eurovision Song Contest. That song was written by Thomas Troelsen (together with Danish Remee and Norwegian Hanne Sørvaag), and one of the latest songs from him will also be known from a competition which happens to be one of the biggest TV events of the year. The singers however, Jennifer Lopez and Claudia Leitte, are not the ones competing and almost guaranteed a hit.
Thomas was given a wildcard to hand out to the Danish final in 2009. He passes it on to Jeppe Laursen who sang the song Lucky Boy. Thomas however still had a bit of the Melodi Grand Prix feeling as well as he joined him on stage.
The song We Are One (Ole Ola) has been selected as the official song for the Football World Championship, which will be held in Brazil this summer, but Thomas says that it wasn't actually written as a football song. "I sent a song to Pitbull's manager and they returned back saying that they would like to work on it for his next album – and then they spent a long time working on it", Troelsen says and add that he was told in November that the song instead had been selected as the official World Cup 2014 song. 
Pitbull, who the song was originally sent to, is an American rapper born Armando Christian Pérez. He also features on the song which have gotten vocals by world famous Jennifer Lopez aka J.Lo, also American, and Brazzilian Claudia Leitte.
Thomas Troelsen describes the song as "one that is easy to sing a long to in a stadium. It doesn't have the big meaning, just this about everyone showing where they are from and then stand together in the end about a big event". 
In the video below you can listen to what is believed to a demo version of the song, but not featuring the correct singers. It is not yet known when that will be released.
You might also like to read:
Dansk Melodi Grand Prix 2014 clips available
All Norwegian entries now online
Can you dance or sing? DR invites you to join them for the semi-finals of the 2014 Eurovision Song Contest