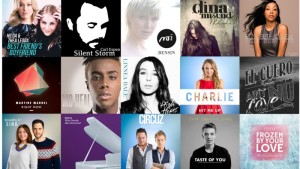 Approximately 600 entries were submitted to NRK for Melodi Grand Prix 2014 and on the 27th of January the results were ready for all to see – fifteen expectant acts were presented at a press conference held by the broadcaster. With the start of MGP only weeks away, NRK released the complete versions of all fifteen entries today.
Musical director Vivi Stenberg has, together with her dedicated group of four helpers, spent an intense few months sifting through all of the submitted entries for Melodi Grand Prix 2014. Given Vivi's solid background and contact network from the Norwegian music industry, hopes were high that she would inject new life and revitalise the Norwegian preselection. She set the bar high last year with an impressive fourth place in Malmö with Margaret Berger and I Feed You My Love.
Quite a number of journalists gathered at the press conference looked slightly baffled when all fifteen competing artists at this year's preselection were presented. The line up featured predominantly new talent with very few well known acts, Cir.Cuz, El Cuero and Linnea Dale being the exceptions. Vivi stated NRK's intention of making MGP a week long music festival and therefore the aim of the contest should ultimately be to showcase talent, new or otherwise. Short, fifteen second snippets of each song were played at the press conference, too short to really give fans a basis to form an opinion on. All that changes today, with the release of the fifteen entries in full, which can be heard on the official NRK website – at the moment, the songs are only available on Spotify and Wimp, but we will update this article with links on the internet as soon as they become available.
Semi final 1:
Songtitle: Best Friend's Boyfriend
Artist: Hilda & Thea Leora
Music & Lyrics:  Martin Kleveland, Lisa Desmond Linder, Jesper Jakobsen
Songtitle: Heal
Artist: Mo
Music & Lyrics: Laila Samuelsen
Songtitle: Needs
Artist: Dina Misund
Music & Lyrics: Frode Bjørgmo Strømsvik, Dina Misund
Songtitle: High Hopes
Artist: Linnea Dale
Music & Lyrics: Linnea Dale, Kim Bergseth
Songtitle: Frozen By Your Love
Artist: TIMBRE & Frikk Heide-Steen feat. Ida Stein
Music & Lyrics: Anders Bratterud, Andrew «Bully» Bullimore, Ida Stein
Semi final 2: 
Songtitle: Hele verden (The Whole World)
Artist: Cir.Cuz
Music & Lyrics: Joakim Harestad Haukaas, Andre Lindal
Songtitle: Right Now
Artist: Martine Marbel
Music & Lyrics: Martine Marbel, Goran Obad
Songtitle: Sing 
Artist: Oda & Wulff
Music & Lyrics: Christer Wulff
Songtitle: Taste Of You
Artist: Knut Kippersund Nesdal
Music & Lyrics: Magnus Hængsle, Jenny Moe
Songtitle: Hit Me Up
Artist: Charlie
Music & Lyrics: Melanie Fontana, John Asher, Lars Hustoft
Semi final 3:
Songtitle: Bensin (Petrol)
Artist: Moi
Music & Lyrics: Ingjerd Østrem Omland
Songtitle: Ain't no Love (In This City no More)
Artist: El Cuero
Music & Lyrics: Brynjar Takle Ohr, Øyvind Blomstrøm, Håvard Takle Ohr, B.L. Rolland
Songtitle: Who Needs The Universe?
Artist: Ilebek
Music & Lyrics: Andreas Ihlebæk
Songtitle: Sole Survivor
Artist: Elisabeth Carew
Music & Lyrics: Elisabeth Carew, David Eriksen, Simon Climie, Mats Skåre Lie
Songtitle: Silent Storm 
Artist: Carl Espen
Music & Lyrics: Josefin Winther
So there we have it, all fifteen entries in full, practically all with a contemporary sound. It just goes to show that there's no need for big names in a contest as far as raw talent is concerned. The observant among you may recognize the name Joakim Harestad Haukaas – he was one of the writers behind last year's Swedish entry You, trying his luck closer to home this year. It is also interesting to see Simon Climie's name among the songwriters with Sole Survivor for Elisabeth Carew, returning after her first attempt in 2010. The name many Norwegian fans seem to be excited about is Linnea Dale, who shot to fame following her collaboration with the group Donkeyboy and their smash hit Ambitions. With very few ballads on offer this year and an undeniably universally contemporary sound, it would seem that Vivi Stenberg has indeed managed to achieve what she set out to do – to bring Melodi Grand Prix slap bang up to date. 
You might also like to read: