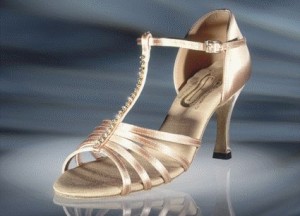 The Danish broadcaster, DR, will be selecting its participant for the 2008 Eurovision Dance Contest on 7th of June. The six couples competing for the spot will be presented Friday the 23rd of May, the day before the Eurovision Song Contest final.
The 2008 Eurovision Dance Contest will be held in Glasgow, Scotland. Last year's winner were Finland, but just like in the Junior Song Contest the winning country is not automatically chosen as host.
Compared to last year the 2008 Danish final will have the format as a big TV show on a proper stage and not just in a tent on the town hall square as the 2007 final. Anja Thordal and Jens Blauenfeldt will host the show with help from two commentators Master Fatman and Mads Christensen. Entertainer Master Fatman, whose real name is Morten Lindberg, has participated twice in the Dansk Melodi Grand Prix. In 1995 he came 4th with Jordisk Kærlighed and in 1996 he came 5th singing I nat together with Jannie Høeg.
The winner of the 2008 Dansk Danse Grand Prix, who will be sent to Scotland, will as usual be chosen via televoting.