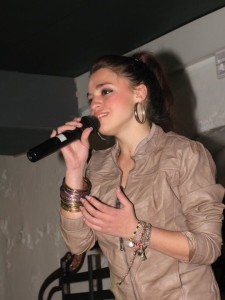 Danica has come a long way since participating in several Malta Junior Eurovision finals.  She has recently represented Malta at the Rzeszów Carpathia Festival in Poland.  Her next big festival will be the Konkors Kanzunetta Indipendenza in Malta in September.

Danica Muscat was the first act to represent Malta at the festival in Poland.  Her song was called Does It Hurt.  Also, participating at the contest was the 2011 Lithuanian Eurovision singer, Evelina Sašenko.  There were also entries from countries such as Belarus, Serbia, Ukraine, Norway, Moldova, Romania, Italy, Germany, Azerbaijan, Russia and Kazakstan.
Danica has also been selected for the grand final of the Konkors Kanzunetta Indipendenza contest in Malta to be held in September.  This festival is the next most important festival in Malta after the Eurosong.  All the songs are sung in the Maltese language.  Her song is called Kliem li m'Ghedtlek Qatt.
She has been successful in many festival in Malta and abroad including Romania and Italy.  She has also participated several times at the Malta Junior Eurovision finals.  In 2006 she performed Play Your Violin and in 2007 she sang Stolen about the missing Madeleine McCann. This song finished in 2nd place. She had 2 songs in the 2008 contest – Trust and Believe and Touch Of Joy.
Danica successfully participated in the popular entertainment show Io Canto in Italy on the Canale 5 channel.  She got to sing duets with many famous Italian singers.  Her version of In Assenza di ti by Laura Pausini can be seen amongs the videos below including her 2011 Konkors Kanzunetta Indipendenza song and Stolen from the 2007 Malta Junior Eurovision show.
Danica has a great chance of representing her country in the near future at the Eurovision Song Contest.