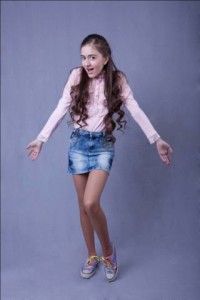 Armenia has selected their 2011 Junior Eurovision Song Contest entry. After winning the national final, Dalita will quite apropriate sing Welcome to Armenia at the contest to be held in Yerevan. 16 acts performed in the national final, that was hosted by Vladimir Arzumanyan, the Junior Eurovision 2010 winner.
There was a big national selection where 16 finalists participated and it was broadcast on the First Channel of the Public Armenian Television (ARMTV). The dolphins from Yerevan's Dolphinarium kicked the balls with numbers and they decided that this would be the performance order for the show:
1: Razmik & Friend – Yes Sirum Em Kez (I love you)
2: Milena Vardanyan – Stop
3: Maria Yenokyan – Nor Erg (New song)
4: Petros Ghazaryan – Im Yerazank (My dream)
5: Ninela Mkhitaryan – Notaneri Ashkharhum (In the world of notes)
6: Tatev Yengibaryan – Hayeren
7: DoReMi – Dance With Me
8: Nadezhda Sargsyan – Tik-Tak
9: Allegro – Bnutyan Hrashkner (Nature wonders)
10: Meri Arzumanyan – Pari Ritmer (Dance rhythms)
11: Monika Navasardyan – Slatsik Kami (Fast wind)
12: Dalita – Welcome to Armenia
13: Anahit Hakobyan – Ballet
14: Sona Gyulkhasyan – Togh (Let my song!)
15: Milli – Milli-on
16: Vahagn Grigoryan – Mer Bake (Our yard)
As dictated by the contest rules, each participant individual or team had written the song they were going to perform. However, participants' parents, music instructors, and producers were presented as co-writers. The songs were about several different subjects, including: childhood, education, dancing, nature, and dreams.
Dalita was chosen as the winner by sms and jury voting (50/50) and she will represent Armenia with her song called Welcome to Armenia at the upcoming Junior Eurovision Song Contest 2011 on December 3rd. The song has a '90s pop style and the staging reminds of the United Kingdom' performance at the 2007 Eurovision Song Contest. Dalita and her backing dancers were dressed like flying attendants and the choreography was quite similar to Scooch's. With this song, the girl invites everyone to visit her homeland in order to appreciate its hospitality and beauty.
11 year old, Dalita, is a well-known face in Armenia because she took part in Armenia's Got Talent show. Nowadays, she works as an actress in the TV show called Charlie Show playing the role of Charlita and she has her own column in a magazine for children. She has six songs, including some music videos on her repertoire which she has written herself, and she has also participated in national contests of beauty and elegance besides working as a television presenter.
She is also not a stranger to Junior Eurovision fans due to her participation in the national selection last year where she achieved the fifth position.
You can see the video performance below: