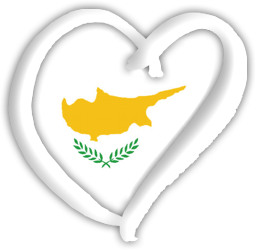 Reports of Cyprus planning to participate in Eurovision 2015 surfaced back in May but were soon retracted. The Cypriot state broadcaster is now said to be considering the best format for a national selection that would see the country return to the contest after a year's absence.
The deciding factor as to the selection format will apparently be down to finances. Cyprus' state broadcaster, CyBC, had cited financial difficulties when it announced the country's withdrawal from the 2014 contest. The Cypriot Broadcasting Corporation appears to be keen for a Eurovision return; however it is allegedly still considering the feasibility of organizing a Cypriot participation for Austria next year due to budget constraints. There has apparently been talk of involving a record company that could take up part of the organizational and promotional expenses. Similarly, it appears that different national selection formats are being evaluated in terms of their financial demands and possible returns for the CyBC.
The reports have split opinion as to what would be the best option for the broadcaster. Some argue that an internal selection for the Cypriot representative would be preferable. Indeed, the last time Cyprus made it to the Eurovision final was back in 2012 with internally selected Ivi Adamou and the song La La Love. Cyprus' track record in the Eurovision Song Contest is a bit more mixed than that however. Since 2004, the country has managed to qualify from the semi final stage on three occasions. Of these, only Ivi Adamou had been selected internally by the CyBC.
Nevertheless, some Eurovision fans are already favouring Maria Elena Kyriakou, the Cypriot winner of this year's talent show The Voice of Greece, as a possible 2015 Eurovision participant for Cyprus. Their suggestion is not entirely implausible; during a recent magazine interview, Maria Elena Kyriakou confessed that participating in the Eurovision Song Contest is a life dream of hers, adding: 'If I had such a proposal today (i.e. to participate in Eurovision) with a quality song that perfectly matched my voice, I would not have to think about it at all (…) it would be a great honour!'
In any case, there has to be an official announcement of Cyprus' 2015 Eurovision return before any deliberation about finding the right candidate for the task can earnestly take place. CyBC is expected to release more details on the matter as early as next week. Eurovisionary will be keeping you updated with any developments on the matter!
In the following videos, you can watch one of Ivi Adamou's 2012 Eurovision dress rehearsals of La La Love as well as an extract from The Voice of Greece 2014 where Maria Elena Kyriakou performs Beyonce's Listen in a duet with 2003 Greek Eurovision entrant Mando.
You might also want to read: