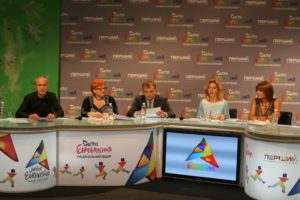 The local broadcaster NTU has announced the 20 acts who will participate in the 2014 Ukraine Junior Eurovision national final. An expert jury consisting of five members helped select the acts, of which one, will eventually represent Ukraine at the Junior Eurovision Song Contest to be held in Malta on 15 November.
A semi-final took place where acts performed in front of an expert jury who carefully considered and selected 19 acts who will participate in the Ukraine Junior Eurovision National Selection for 2014.
The five jury members were Mykhailo Nekrasov (composer of Gravity by Zlata Ognevich 2013 Ukraine ESC and musical arranger of Wild Dances, winning song for Ruslana at 2004 ESC for Ukraine, and Show Me Your Love by Tina Karol 2006 Ukraine ESC), Nataliia Miedviedieva (vocal coach at Kiev Municipal Academy of Circus and Variety acts), Andre France (composer, lyricist, music producer), Anzhela Kopotia (art director of Dance Studio-A6 and many national and international artists) and Illaria (singer and composer – she took part in the 2014 Ukrainian Eurovision National Final).
In addition to the 19 acts one more act was selected from a special project, Music Academy Eurovision. The three winners of the show will perform as a group (Sofiia Kutsenko, Amaliia Krymska, Marta Rak).
The 20 finalists are –
1. Elizabeth Zadoia
2. Fresh
3. Anna Nikonova
4. Duet "Double Smile"
5. Sofiia Yaremova
6. Viktoriia Sviatogor
7. Trio "Smile"
8. Stasia Yevgrashyna
9. Trio "Zviosdnaia kapel"
10. Mariia Tarnavska
11. Anna Likhota
12. Anna Trincher
13. Sofiia Rol
14. Yulianna Vasylovska
15. Veronika Yerokhova
16. Duet "Boikov sisters"
17. Denys Frolov
18. Vocal Ensemble "Zabava"
19. Yaryna Taras
20. Trio: Sofiia Kutsenko, Amaliia Krymska, Marta Rak
**Polina Ryzhak was excluded from the competition due to a violation of the rules. It was deemed the lyrics for her song were a translation of a Miley Cyrus song from 2006 from the Hannah Montana tv series called Nobody's Perfect. She was replaced by the group Fresh, who just missed out on the final from the original selection.
The date of the national selection and song titles will be announced shortly. Who will follow in the footsteps of last year's representative, Sofia Tarasova.
You can see Sofia Tarasova perform We Are One at the 2013 Junior Eurovision Song Contest below.
You may also like to read –