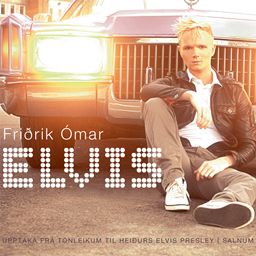 This autumn sees a veritable bonanza for fans of Icelandic artists, with three major releases scheduled for the coming months. The albums in question are not new material as such, but nevertheless offer fans the opportunity to discover unknown musical sides to some of Iceland's most popular and respected artists.
First off the starting block is Friðrik Ómar, with his tribute to none other than the King of Rock & Roll, Elvis Presley. His project sees the release of both a CD and DVD, aptly entitled Elvis, which captures his energetic performance in a series of concerts held in Kópavogur. The actual recording was taken from his final concert held on the 27th March and the concerts were, needless to say, an unmittigated success. A guest appearance which may be of interest to Eurovision fans is that of the artist affectionately dubbed "the Icelandic Elvis", Björgvin Halldórsson. He collaborates on, amongst other tracks, their version of the classic Can't Help Falling in Love. Friðrik Ómar has also stated that a further promotional concert will be held on the 24th. November with tickets already on sale and reportedly selling like hot cakes.
Another much anticipated release later on in the year, is that of two time former entrant Selma Björnsdóttir. It seems that Selma goes from success to success. Following her hit album I Am in 1999, her career has gone from strength to strength, making her a household name and an artist in great demand. Her career takes a surprising turn with the imminent release of a country themed album of country classics. Entitled Alla Leið til Texas (All The Way To Texas), Selma will offer fans her take on classics from artists such as Dolly Parton, Patsy Cline, Tammy Wynette amongst others. Adding yet another feather to her cap, the new album is due for release in November/December, follwing a release concert in Kópavogur on the 21st. November.
The third release is from one of the mainstays of the Icelandic music industry, Björgvin Halldórsson. Björgvin had been an established artist decades before he finally succeeded in representing his country in 1995 with Núna. The artist is, as we speak, putting the finishing touches on his latest album which has the working title Duets II. Little is currently known of the content, but judging by the list of artists he is collaborating with on the new album, there will be something to suit all tastes. What's more, there is plenty on offer to interest fans of all things Eurovision, including duets with Friðrik Ómar (Ice '08), Daníel Ágúst (Ice '89), Jóhanna Guðrúns Jónsdóttir (Ice '09) and Sigurjón Brink, a familiar face from the Söngvakeppni Sjónvarpsins heats. Björgvin's newest offering is due to hit the stores during November.
Links