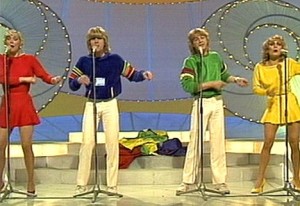 A long running court case has finally settled on who should own the name of The Original Bucks Fizz.  Bobby Gee has won write to use the name.  Original members Cheryl Baker, Jay Aston and Mike Nolan were performing using that name. 
Over the last few years there has been 2 Bucks Fizz groups performing.  Original member Bobby Gee has 4 member band including his wife, Heidi Manton.  It is Heidi who has won the battle to own the trademark name.
Bucks Fizz won the Eurovision Song Contest in 1981 and went on to worldwide success.  The winning song, Making Your Mind Up, went to number one in the United Kingdom and many other countries.  They went on to have many hits including The Land Of Make Believe and My Camera Never Lies.
The Bucks Fizz groups have had many line up changes over the years.  They included former Dollar singer, David Van Day at one time.
Cheryl, Jay and Mike are very disappointed with the decision and will appeal to the High Courts to try and reverse the result.