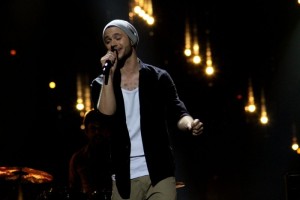 Today we saw the last open rehearsal before the dress rehearsals of the Eurovision Song Contest 2012. It was the German singer Roman Lob, and he had a very good perfromance. Could he end up beating all the favorites?
As we saw
in yesterday's rehearsal, Roman Lob has a very strong and confident performance of his
song Standing Still. His vocal is strong, the line up with a band suits the
song well, and the light and back drop match the song beautifully. Whether the voters will vote for Roman or not is up to his voice alone. And today he nailed it. Roman had a strong vocal performance. 
During the song Roman is standing in the center of stage with a band behind him. A piano, a set of drums, a guitar, and a bass.
However,
something is still up to be decided. What will Roman wear? In his second
rehearsal different outfits were tried on. They were all very casual and are basically
and open shirt, white t-shirt and grey trousers – and of course his hat. The
question is what colour will Roman chose for his shirt? That seems to be an
open question at the moment.
Knowing
that Roman Lob has start number 20 in the final, he could very well be a strong
contender for a position in the top next Saturday.
Judge
yourself in this video: