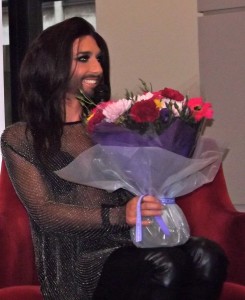 To celebrate her appearance at Manchester Pride EuroVisionary managed to grab some time with Eurovision 2014 winner Conchita as she talked about LGBT rights, her fashion inspiration and what she has planned next in her music career.
It's been three months since the 49th contest in Copenhagen and in the time since then so much has happened in the life of the reigning queen of Eurovision Conchita Wurst. Today at a press call ahead of her appearance on the main stage at Manchester Pride: one of the UK's biggest LGBT festivals, she was as charming and savvy as ever as she fielded questions from many British news outlets. We were very fortunate to have been the only reference website in attendance on the day.
Getting right down to an open floor Q&A Conchita spoke of the importance of Pride across Europe and the world and shared her opinions about how necessary she feels it still is in terms of standing up and speaking out for the LGBT community. She went on to single out Amsterdam as a place where Pride is celebrated by young and old alike, referencing this as an example of how it should be for every country across the globe. As it so happens her first Pride festival was attended at age 14. 
In terms of her music I asked what is to come in the future? "I'm working on an album and I'm not very talented at writing songs so I need people to do that for me. I'm in the lucky position where I've actually got some of these people!"
She elaborated a little but was remaining quite tight lipped on specifics: "I have some songs and we're figuring out if they suit me that well as we thought in the first case so we're constantly working with the product so that these songs become my very own. And this needs a bit of time but I think I'm on a quite good wave and I'm totally excited for the first release because at the end of the day they should become my babies and I've already got some babies but there's nothing more I can say actually, but it will be great."
When a fashion question was put to her she didn't hesitate in naming Victoria Beckham as her fashion inspiration, saying it's not just her fashion but also down to her life story. 
In a very tongue and cheek answer to a question about what she thinks the UK could do to win Eurovision her quick response was: "Austria hadn't won for 48 years! So queue in line!" She went on to rule out ever returning as a singer at Eurovision: "As a guest? Yes, hosting? Yes because I love Eurovision, but never ever ever as a participant again. For me I would have to win again, but with more points! I don't want to be that sad." 
The session was wrapped after a presentation was made to Conchita of a bouquet of flowers from a elected councellor Pat Karney of Manchester City Council which garnered a big round of applause in the room.
Just a couple of hours later it was show time. Taking to the main stage in Manchester she was given a huge welcome as the chants of "Conchita! Conchita!" were deafening and she started her set with a rendition of That's What I Am; her 2012 Austrian National Final runner up entry and from the off she has the crowd engaged and under her spell. 
Wearing a lilac floor length dress slashed at the sides she commanded the stage in a very diva-esque way. Her second number was a cover of a Anna Vissi's Eurovision entry from Athen's 2006 Everything which she followed up with a Ray Charles song Unchain My Heart and then led into Rise Like A Phoenix. 
With that a word-for-word singalong ensued for the winning song that made it to number 17 in the Official Chart in the UK. Just when the audience thought it was over she treated the thousands in the crowd to her encore track: My Heart Will Go On, the theme from Titanic, known internationally as a Céline Dion number. Going by the mantra leave them wanting more she really gave an engaging and assured performance and was a big hit on the night. 
You might also like to read: