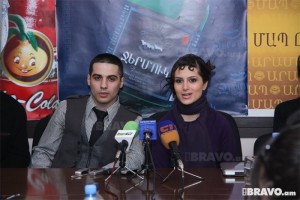 In some quite inactive process in Armenia this year at their selections, the official broadcaster ARM TV revealed some changes in the national final where the public will make the last decision on Emmy's way to Düsseldorf.
As we introduced the procedure of the national final process in Armenia in early January, the official broadcaster ARM TV had opened a poll to pick a song for Emmy who will have the honour of representing her country at the Eurovision Song Contest in Düsseldorf this May. You can read more for song submittion history.
Later on, following the deadline for song submissions on the 23rd of January, official broadcaster ARM TV announced that they are ready for the final show to start Emmy's journey to Düsseldorf. As approximately 70 songs submitted to the channel where only 4 composers songs were chosen to be presented to public.
According to the latest announcements, the Armenian broadcaster has made some changes in the process as the national final date was moved to 26th February from 19th. Secondly, it is announced that another Armenian worldwide singer Mihran will join Emmy on the way to Düsseldorf. The names of owners of the composers are:
DerHova
Vahram Petrosyan
Apricota
Martin Kesici
The national final will take start on 26th February at 18.00 CET and will be aired by ARM TV. The show will also be able to be seen via internet and satellite. More information will be announced here on EuroVisionary. You can watch the trailer of Emmy & Mihran for Armenian selections below: