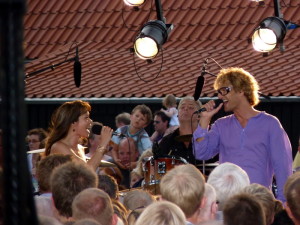 Last night the Danish 4th placed Eurovision participants performed in one of Denmark's most popular beach cities. EuroVisionary bring you videos from the one hour long open air concert that attracted both Danes as well as a lot of tourists. You can hear a different version of their Eurovision entry and what else the Danish duo have to offer.
The concert took place in Blokhus, a small beach city on the west coast in North Jutland. The city is well known for many doubling its number of citizens in the summer due to it being an area with a lot of camping places and holiday houses for rent. The city offers one of Denmark's best beaches on the very rough North Jutland west coast where man is fighting against nature – so far with nature winning. The very fascinating area in particular attracts a lot of tourists from Germany, the Netherlands and Norway.
The many tourists might explain why the audience had quite some problems singing along to Chanée & N'evergreen's songs. Even their 2010 Eurovision Song Contest entry, that finished fourth in Oslo in May, In A Moment Like This, didn't quite work as a sing a long song. It was performed in a slightly different arrangement which might also have something to do with it.
In the videos below you can first see and hear Chanée & N'evergreen perform In A Moment Like This in Blokhus last night – and in the second video EuroVisionary have made a medley of some of their other songs. This includes Making Miracles, See You The Same Time Tomorrow, How Can I Make You Love Me, Head Over Heels and Pick Up The Phone.
See pictures from the concert in our photo album
Haven't you bought Chanée & N'evergreen's album yet? Do so at your local CDON.com store