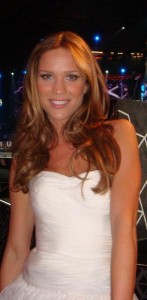 This Saturday 6th June, the Swedes will be celebrating their national holiday. There will be various activities from all over Sweden broadcast on SVT, activities such as performances of former participants from Melodifestivalen. There will also be a soccer game where Sweden meets their neighbour Denmark on Saturday night.
At 5pm, SVT will broadcast celebrations from all over Sweden. Among other things, we will be able to follow the celebrations in Eskilstuna where the Swedish King Carl Gustaf and the Swedish Queen Silvia will attend.
After that, at 8pm there will be a concert with several Swedish stars, at Skeppsbron in Stockholm. Presenters of the broadcast will be André Pops and Marie Serneholt. André Pops is very well known in Sweden as a sports commentator and a presenter on tv. Marie Serneholt was one of the debutant's in Melodifestivalen this year with the song Disconnect Me, unfortunately she finished at 6th place in her semi-final and therefore didn't qualify for the final.
Among the artists performing at Skeppsbron, you'll find former Melodifestivalen participants  Magnus Carlsson, Agnes, and the trio Sonja Aldén, Shirley Clamp and Sanna Nielsen. Several other well known Swedish artists  such as Sven-Bertil Taube, Hanna Lindblad and Rennie Mirro will join them. Rennie Mirro was actually involved in Melodifestivalen this year, as he was helping his half-sister, Sarah Dawn Finer, with the choreography for her song Moving On.
At the same time, at 8pm, there will be a very important soccer game where Sweden meets Denmark. Since the Danish fans are a little bit upset about the lack of points from Sweden in the Eurovision Song Contest, there will be a lot at stake on Saturday night. This is the 101st time Sweden meets Denmark in a soccer game. Of the 100 games that has already been played over the years, Sweden has won 45 times and Denmark 36 and there has been a draw 19 times. Will Sweden increase their lead or will Denmark even it out a little bit, or will the teams do what they have done the last couple of years and play a draw? It will all be revealed on Saturday, may the best team win!