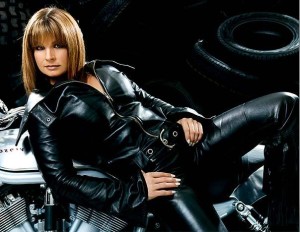 Carola Häggkvist disappeared Thursday from a petrol station in Sweden without paying her bill. A list of her past traffic violations shows that it is far from the first time she is on the wrong side of the law.
According to Aftonbladet she was recognised filling up her rented American luxury car at a Q8 petrol station in Upplands Väsby. After doing so she quickly got into the car, speeded up and left the place without paying. A witness reported the episode to the owner of the petrol station who then contacted Carola's press agent for an explanation. He got his money that way around, but never heard a word from Carola herself.
It is, unfortunately, not the first time her driving makes headline news in Sweden as this is the 8th known traffic violation from her since April 2006. The other seven  are things like driving way too fast, parking on cyclist lanes and driving without the car's registration paper. She apparently learned a little bit – but enough, from that one as next time she was asked to show the registration papers they were homemade! But what seems to be the worst is back to August 2006 where she is caught letting her 8 year old son drive the car with her as a passenger!
Carola is one of the biggest names in Sweden having represented the country three times in the Eurovision Song Contest – and from those even won it once back in 1991 with Fångad av en stormvind. She took part in the Swedish selection this year together with Andreas Johnson, but faced that being among the favourites doesn't guarantee a ticket to Belgrade. Their One Love made it to the second chance round, but didn't qualify for the final in Globen. But being as famous as she is the press do focus a lot on what she is doing – and some will say that she should be a better role model – both for her own children and her fans.