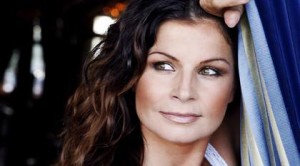 The Eurovision winner Carola has been confirmed as the interval act of the Eurovision final on the 18th of May. The act is described by the Eurovision show producer Christer Björkman as a humorous number with focus on Sweden.
During the interval act, which will put focus on Sweden and the typical swedish, Carola is going to sing, dance and enterain the viewers in a funny way according to Christer Björkman.
Carola became a mega star over night when she won Melodifestivalen in 1983 with Främling. She then went to Munich where she ended 3rd in the Eurovision final, which was viewed by a record number of 6 million swedes. In 1991 Carola won the Eurovision held in Rome with the song Fångad av en stormvind. In 2006 she was back with the song Invincible which ended up in 5th place in the final in Athens.
Carola recently appeared as the interval act during this years national selection Melodifestivalen where she sang a new version of Främling.
You might also like to read: