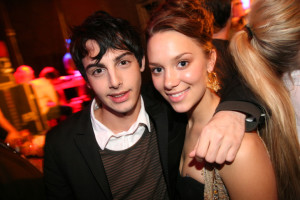 In an announcement today SVT presented next Thursdays interval act for the second semi-final of the Eurovision Song contest. The interval act, called "Swedish pop Voices", will feature the two swedish pop stars Darin & Agnes singing a medley with some of their greatest hits.
Darin (last name Zanyar) & Agnes (Carlsson) both shot to fame after participating in the Swedish Idol talent show. Darin came second in Idol 2004 and has released six albums who all sold platinum or gold in Sweden. He participated in Melodifestivalen 2010 where he came 4th with the song You're Out of My Life.
Anges won Idol in 2005, she releaed four albums and particpated in Melodifestivalen 2009 with the song Love, Love, Love with which she came 8th with in the final. Later in 2009 she had international success with the song Release me.