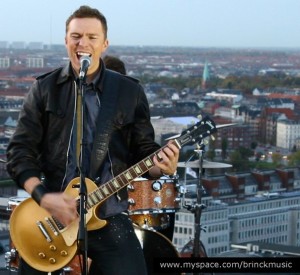 The Danish representative for the 2009 Eurovision Song Contest, Brinck, will be touring around in his home country all summer.  A big Denmark tour will start right after returning from Moscow and last at least until the autumn. Until May there is time in his schedule for further promotion.
Simon Mathew who brought Denmark to last year's Eurovision Song Contest final where he ended 15th with All Night Long was touring a lot before going to Belgrade. So far very little has been planned for Brinck before his departure for Moscow giving him plenty of time to prepare and perhaps even do a bit of promotion abroad, although this is very unusual for the Danish participants. Once he returns it will however be to a full schedule that will bring him all around the country.
 
So far concerts have been planned from the 21st of May till the 6th of September plus a couple in December 2008. Just like previous year's the winner of the 2009 Eurovision Song Contest must be available for the winner's tour which usually starts a few days after the final. This will clash with some of the scheduled concerts and these will have to be cancelled then.
Brinck's concert schedule as it appears right now: (more dates will still be added so remember to check up on the latest version)
March:
07/3 – RO's Torv, Roskilde
May:
21/5 – Kolding Open Air at 18.00
23/5 – Torvet, Roskilde at 11.00
23/5 – Karneval I Ålborg at 17.00 – 20.00
29/5 – Fredericia Sommerock at 20.00
30/5 – Friluftscenen, Nr. Broby at 19.00
June:
04/6 – Friluftscenen, Hjørring Aften
06/6 – Ringe Open Air at 13.00
06/6 – Brædstrup Rock (Trio) at 15.00
06/6 – Rosenholm Festival at 20.00
13/6 – Nord Als Musikfestival at 15.30
20/6 – Ikast Musikliv at 16.00
27/6 – Skærbæk Open Air at 15.45
28/6 – Torvet, Svendborg at 13.00
July:
03/7 – Nykøbing Falster Open Air at 17.00
04/7 – Nibe Festival at 20.00
10/7 – Vig Festival at 13.00
11/7 – Bakkefesten Gilleje at 21.30
11/7 – Radio ABC Beach Party at 16.00
29/7 – Langelandsfestival at 15.00
31/7 – Sundsøre Musikfestival at 18.00
August:
01/8 – Kalundborg Rocker at 15.00
08/8 – Ringsted Festival at 13.00
TBA – Skanderborg Festival at TBA
16/8 – Randers Ugen, Teltet at 19.00
21/8 – Parken, København (Solo) at TBA
22/8 – Vojens Høtte at TBA
September:
04/9 – Hammel Outdoor at 18.30
06/9 – Kimbrer Festen at 16.30
December:
04/12 -Toftlund Hallen at TBA
12/12 -Gørlev Hallen at TBA