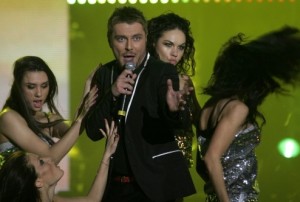 Bulgarian broadcaster BNT wins the prize for announcing the first performer for next May's Eurovision in Oslo.

Miro, from the top Bulgarian duo KariZma was chosen by an internal committee of 51, made up of people from the Bulgarian entertainment industry and music scene.  He beat other hopefuls Poli Genova & Nora Karaivanova and Bulgarian legend Lili Ivanova for the honour of representing his country.
Miro, or Miroslav Kostandinov, was born on 10 March 1976 in the north-eastern city of Dobrich.  He is a graduate of the Russian language. His fame started when he won several young performer awards at various local music festivals.  Later, in 1999, he formed the duo KariZma with Galina Kurdova.  Between then and 2006 they released a string of singles, including the hit Shall I Run Away From You?, which concentrated on the tricky subject of domestic child abuse. The song's video featured the now Bulgarian Prime Minister Boyko Borisov. In 2008, Miro released his hit song I Lose Control When…,(which you can see below) and his solo album Omirotvoren (Pacified – a word play with his name in Bulgarian).
BNT has now invited composers to write songs for Miro.  Five of the lucky songs will performed at a national final sometime during February.  Bulgarians will be able to vote for their favourite via text (SMS) message. Bulgaria has, to date, reached the Saturday night final just the once, when multi-percussionists Elitsa Todorova and Stoyan Yankulov achieved 5th place in 2007 in Helsinki.  Miro will present Bulgaria's sixth entry.