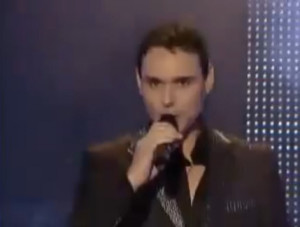 After a marathon selection process which began on 2nd October, Bulgaria finally selected the song to go to Moscow. The winner was Krassimir Avramov with Illusion who will then be representing the country at the 2009 Eurovision Song Contest. Bulgaria has been drawn for the first of the two semi-finals.  
The first performer in tonight's final was Stefan Ilchev. He is backed for his song, Get Up by four dancers whose routine is robotic in style. The song is an up tempo number which is delivered simply by Stefan wearing a black suit with a red shirt.
He was followed by Moto, a band, singing Razstoyaniya. The guitars give the song a soft rock feel. All the band is dressed casually and gives a very competent performance.
One Lifetime Is Not Enough was the first song of the evening to be performed by a woman, Poli Genova. It is a good ballad given a strong vocal performance by Poli. Powerful ballads sung by women usually do well in the contest so Bulgaria might have missed a trick here.
Dani Milev sang an up tempo number, Nyama Vreme. It has a modern Latin feel to it. He is dressed all in black while his four female dancers wore red outfits.
The second solo female of the evening was Ivelina, who sang Ready for Love. Her voice is a bit strained on the higher notes of this mid tempo song. She is joined on stage by a man dressed as a mime artist, who attempts to woo her with a very large flower. If anything, this detracts from the song.
The performance of the sixth song, Vrag, gave the feeling of a magician performing a trick. The singer, Grafa, was backed by four females and some mirrors. The mirrors were moved around the stage by his dancers, while Grafa himself addressed the audience.
Girl group Sahara strutted around the stage for the performance of their song, Don't Kiss for Money. Their luck clearly 'desserted' them as they didn't win, but they were very confident on stage. The dance routine for them and their three male dancers was hip-hop in style, but the song is more pop.
Mariana Popova is no stranger to the contest, having represented in Bulgaria in 2006, failing to qualify for the final. Her song this time, Crazy is a dance song which would have a good chance of qualifying for the final in Moscow had it been given the chance.
Chance to Love gets off to a poor start and promises little for the rest of the song. However the song improves a lot as it goes on and Jura Tone feat. Lady B deliver it well. It's another modern sounding pop song which has a jazzy blues guitar solo in the middle.
Stefan Dobrev gives a genuine performance of Everlasting Love. He dresses in a black outfit for this gentle ballad. The staging is very simple and uncomplicated, which is what the song required.
Krassimir Avramov dresses in what can only be describes as chainmail for his song, Illusion. As most countries add to the presentation between national final and Eurovision Song Contest, it seems this will be one of the most elaborately presented. Tonight, there were dancers on stilts and fire cones at the front of the stage. There is a danger that all this could overshadow the song, a dance song with a strong beat, which would be a shame. The song stands up on its own merits.
The final song of the night was It's not Right, sung by Nora. It has a pop feel but is a bit messy and doesn't seem to know which direction to go. That said, Nora's performance was capable which can make a difference.
So Krassimir Avramov won the final and will compete in the 1st semi final on 12th May. You can watch the stage performance and video of Illusion below
Links