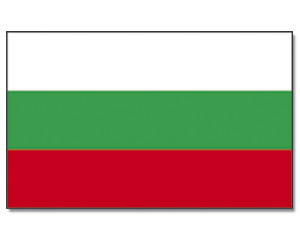 The Bulgarian broadcaster BNT has announced details concerning their selection for the Eurovision Song Contest 2012 in Baku. It was revealed that there will be two semi-finals and one final. A mixture of juries and televoting will choose the winner.
Nine months before the Eurovision Song Contest 2012 taking place in Baku the Bulgarian broadcaster BNT announced their plans for the national selection. Between September 9th and November 11th entries can be submitted. The rule says that they have to be a Bulgarian product which means that the music, the lyrics and the arrangement should be by a Bulgarian.
Afterwards a professional jury will decide which songs will go through to one of the two semi-finals. In the first step 60 songs will be chosen and announced to the public on November 16th. The number of songs will then be reduced to 30 – 15 competing in each semi-final. A final list with all the songs should be released on November 25th.
It was announced that the semi-finals will take place on December 12th and 14th in Sofia. Six songs of each semi-final will proceed to the big final which is planned to be held in Sofia on January 28th, 2012. The winner and Bulgarian representative for Baku will finally be determined by a mixture of jury and televoting.
In Düsseldorf Bulgaria failed to reach the final once more. Poli Genova finished 12th in the second semi final with her rock ballad Na inat. Since their debut in 2005 Bulgaria has only qualified for the final in 2007 when Elitsa Todorova and Stoyan Yankulov came 5th with Voda.