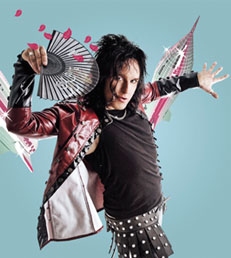 Wig Wam frontman and vocalist supreme Åge Sten Nilsen (Glam) has enjoyed immense success in Norway with his adaptation of the popular West End musical We Will Rock You. So much so, that the flamboyant artist is setting his sights even higher and aiming to take his show overseas.
Åge Sten Nilsen first experienced his major breakthrough when representing Norway with Wig Wam and the glam rock number In My Dreams in Kiev in 2005. Since then, he has thrilled audiences around the country with his vocal acrobatics and own unique take on the music of Queen and Freddie Mercury, managing to sell over 200,000 tickets in his native Norway – an impressive figure, considering the population is five million. All good things must come to an end however, and so does Nilsen's The Show Must Go On, as it is scheduled to go out with a bang after touring venues in Northern Norway in August and September, as well as returning to Oslo for some extra dates at the Edderkoppen theatre. A few sporadic shows will be given at various concert venues up until April 2013.
As of summer 2013, Nilsen will be relocating to Las Vegas, where he hopes to spellbind curious American concertgoers with his own brand of magic. He has just returned to Norway after having spend some time in Las Vegas together with show producer Gusty Utterdahl, preparing for the cultural assault on the US and was able to perform his interpretation of Queen hits for the first time at the Infocomm 2012 International Audiovisual Trade Show. Names to be reckoned with from the American entertainment industry were reportedly wowed by Nilsen's spectacular show as he took to the stage at the Las Vegas Convention Center. THe reaction to Nilsen's performance couldn't be more promising as the partnership og Nilsen and Utterdahl begin to work closely with highly regarded Toni Young of Rogue Artists Entertainment, in preparation for the 2013 extravaganza. Young has previosuly worked with the likes of Sara Brightman, Bon Jovi and Peter Gabriel.
You'd think that all work and no play makes Åge Sten a dull boy, but that's certainly not the case, as in addition to his Queen tribute, his is currently working on a tribute to the King of Pop, Michael Jackson, entitled The Thrill of Michael Jackson, due for premiere on July the 11th at the Oseberg Culture Hall. Plans are to take this tribute to Las Vegas too, with a premiere scheduled for 2014.