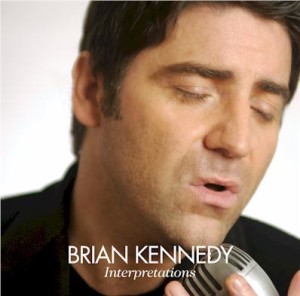 Brian Kennedy is continuing to promote his new album and today he was on one of RTÉ's chat shows, Seoige & O'Shea, to give an interview and plug the CD.
He spoke very openly with Gráinne Seoige about his career and his new album.  Gráinne asked Brian how he felt about Ireland choosing to send Dustin to the Eurovision Song Contest.  Brian talked jovially about the decision, he said "for the last few years we've had the 'ceol' (music), maybe now we should have the 'craic' (fun)".  He continued on to say "I don't see the harm in a bit of 'craic'".  Brian also saw the benefit in Dustin's participation, "he's got everyone talking about it".  In a message to Dustin he said "Dustin, if you're watching, the best of luck" and topped it all off with "Break a feather!".  Talking about his own Eurovision experience Brian said that it was a "very intense period".
Speaking about his new album, 'Interpretations', he told Gráinne that "The clue's in the title, I wanted to do something special".  He also told that he asked his manager to put him "out of my (his) comfort zone".
To finish off the segment he sang one of the tracks from his new album.  The song was called 'Gaye', originally by Clifford T Ward.  Brian will be playing at the University Concert Hall in Limerick on the 10th of April.  The venue will be familiar to many Eurovision fans as it hosted the Eurosong 2008 final little over a month ago.