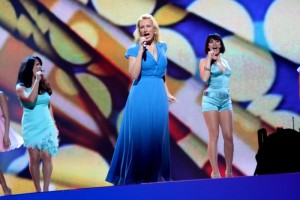 Today Latvia was on stage for their second rehearsal for the Eurovision Song Contest 2012. For the first time we saw a glimpse of the dress Anmary is going to wear in the semi final next Tuesday.
Thursday the Latvian singer Anmary had her second rehearsal on stage in Baku. Not much had been changed since her first rehearsal three days ago.
Most notably is, however, that this time Anmary wore the dress she'll be wearing in the semi final. It's a long turquoise dress that doesn't reveal much.
Anmary is not alone on stage. She has four backing singers who dance around the stage and occasionally they dance with Anmary. Their outfit is a mix of white, turquoise and pink coloured clothes. During the song and dance they all pretend to small talk with each other.
The back drop is kept in red and orange colours and during the song it looks like you're looking through a kaleidoscope.
The overall impression is that it's a fine performance but a bit anonymous. We'll see if the voters think it's beautiful enough to send to the final.