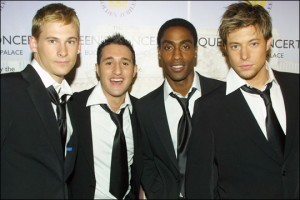 Following a rather mysterious announcement via Twitter earlier tonight, the BBC have revealed that for the first time since 1994, they have made an internal selection in choosing the United Kingdom entry for the 2011 Eurovision Song Contest.
And the act to represent the UK is going to be none other than Blue! Yes folks, you read correctly. The band had a very successful career in the 2000's with a string of number ones in the UK and sold millions of records worldwide.
The band consists of Simon Webbe, Lee Ryan, Duncam James and Antony Costa. They were formed in 2001, released 3 studio albums and 13 singles before disbanding in 2005. 2009 saw the group reform when promoting a greatest hits tour.
Blue are no strangers to Eurovision, with Antony Costa having made an attempt to represent the UK previously in 2006, singing It's A Beautiful Thing.
The song they will perform, entitled I Can is apparenlty self penned by the group and it will be a brand new number that Blue will sing on stage in Düsseldorf. Will 2011 finally get to see success for the UK now that the BBC have come up with a heavy duty, credible artist? Only time will tell.
Links