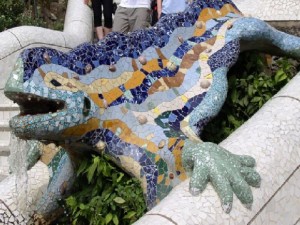 Barcelona have set aside Gaudí's architecture for part of the celebrations for the final of this year's Eurovision Song Contest.  Six hours of an amazing atmosphere are planned for an unforgettable night.
Barcelona, the host city of the Olympics games back in 1992, wins  international recognition day after day amongst tourists. This reason and the fact that the Eurovision Song Contest will be held on Saturday 26 May, are the reasons that Eurovision fans decided to organise a party at the Mediterranean city for sharing the atmosphere that only the European has.
Barcelona's Eurovision party organisers assured us that Saturday evening will be a night to remember. The guest list has 70 fans who will join the party, although you can be one of them as well.  In case you would like to discover how Eurovision is lived in Barcelona, please read the information that we describe you as follows:
Sala Dietrich whose address is Consell de Cent 255 (Barcelona) will host the best party related on Eurovision that can be held in the Spanish city. The party will begin at 19:30 and will end at 02:45. There will be a big screen for watching Eurovision among nearly a hundred fans, although there will be flat screens all over the sight of the party. Among the guests, there will be a champagne for celebrating the European music party. As all ESC fans are hungry of a victory (Spain won the contest back to 1969), catering will be served for making more pleasurable the night. For those who want to drink a toast for celebrating the night that Barcelon Eurovision Song Contest lovers have been waiting for twelve months, there will be an open bar as well. The party will be full of music played by DJ Galfo, a DJ with experience in the Euroclubs at Eurovision. The special guest at the party will be the great voice of the young Eric Oloz, who performed Quédate conmigo around the world cover.
Although the hard financial moments that society is living, the ticket prices have been reduced as much as possible.The tickets cost 50 Euro, although it is worth to join a Eurovision party.
In case you are interested to join the party, feel free to send an E-mail to Pedro Hernández [email protected]. In case of doubt, feel free to contact Dani (+34 648 829 705).Tickets can be bought in Átame bar, which it's located in Consell de Cent 257 (Barcelona).  We recommend you to book your tickets as soon as you can.