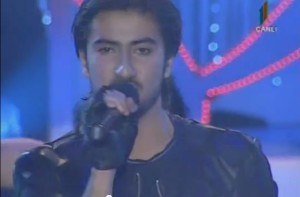 Today in Azerbaijan's national final, it was time for Milli Seçim Turu's final show in the first heat. The nine competitors had their last chance in "to be or not to be" battle which was won by the current leader Orhan Kerimli.
This evening's show started with the introduction of a few well-known names by host, Hüsniye Maharramova, who announced the Azeri votes at the Eurovision Song Contest in 2009.
Surprisingly, the guest of the day was Nigar Jamal. As this year Azerbaijan is hosting the Eurovision Song Contest, Nigar (Nikki), who won with Eldar (Ell), happily advertised her new album and of course the new video. It was also mentioned that Eldar had wanted to join her on the stage, but unfortunately he had a very busy schedule. We were able to watch her newest video, Crush on You.
The final day in the first heat finally kicked off with the performances in the order below:
•    Ramin Guliyev
•    Janana Zeinalova
•    Orhan Mirzayev
•    Samra Rahimli
•    Kenan Gadimov
•    Anastasiya Bedritskaya
•    Amil Gojayev
•    Orhan Kerimli
•    Elnara Hasanova
After the performances, the show continued with the results. The host of the night, Hüsniye Maharramova, announced the votes from last position to the top. The latest results were collected after each day's results with the combination of jury and televoting, 50/50. Then the final shape of scoreboard came out as:
2 points: Anastasiya Bedritskaya
3 points: Orhan Mirzayev
4 points: Janana Zeynelova
5 points: Amil Gojayev
6 points: Kenan Gadimov
7 points: Ramin Guliyev
8 points: Semra Rahimli
10 points: Elnara Hasanova
12 points: Orhan Kerimli
With those nine performances and results, the final day in heat 1 ended. The second heat will start on Monday with the World Music theme and of course with the new participants. The show will start at 18.00 CET (21.00 with local time) and will of course be aired by İçtimai TV via satellite and web.
Below you can watch the final voting and closing ceremony and also catch up on the heats you missed: