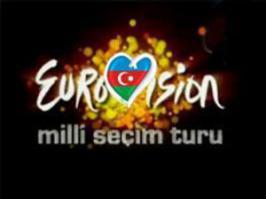 Last night, Azerbaijan's national final Milli Seçim Turu's fourth day in the first heat continued with the Perfomance Day. Two days in a row has given a new first postition – and with only one day left the 9 competitors are fighting still to be in the run to represent their country on homefield in May.
Thursday's evening's show started with the presentation of Leyla Aliyeva who also presented the show in first two days. As some might remember by now, Leyla announced the Azeri votes at the Eurovision Song Contest in 2010.
The procedure applied were different than in the first three days  with the current standing not being revealed. We will have to wait until the last programme in this first heat tomorrow. This procedure will be carried out in the second heat in next week and the winners of each days will be announced in a morning programme the next day.
The fourth day in the first heat kicked off with the performance of Ramin Guliyev, who was last placed as 4th. Rock lover Ramin performed another rock song in his hippie dress, singing an old Bob Dylan song from the '70's Knockin' On Heaven's Door.
Janana Zeinalova was the second act of day four with a Turkish song from Sertab Erener who brought first winning honour to Turkey in 2003. Janana sang Bu Böyle with dancing during this uptempo song. There were parts of the lyrics missing in the performance, but it was obvious Janana liked dancing on the stage. Janana was at the bottom of scoreboard.
Orhan Mirzayev's choice was an Azeri song, Zibeyde which he hoped could bring him closer to the top as the 8th position he last had. Orhan was charming with his performance today.
After the first commercial break we continued with Samra Rahimli. Her choice was a Russian song in r&b style, Vorona. Samra in a totally black dress gave us an interesting performance with some strange dancing figures. She was placed second, following Orhan Kerimli and still with a good chance to make it.
The fifth show was performed by Kenan Gadimov, who was placing 6th last we saw him. Kenan showed us another interesting performance of the day singing a famous opera song Belle. The theme of his choreography was Notre Dame which was actually matching with his song. 
The sixth song was Parachute performed by Anastasiya Bedritskaya
who was placed 7th and had to improve. She gave us a good performance on chairs with this uptempo song from famous Cheryl Cole.
After second commercial break we continued with the performance of Amil Gojayev
who was at just third place before yesterday. Amil sang another English song Start the Fire from worldwide known Turkish pop singer Tarkan.
The nineteen year old Orhan Kerimli was the
eighth act at the day two of first heat. Orhan, our latest leader, performed his song inside a lot of smoke on the stage with four of backing dancers. His choice was from well known Turkish representative Hadise (2009), Aşk Kaç Beden Giyer?
The last performance of day 4 came by Elnara Hasanova. She gave a good performance with her song Go On singing all alone at the stage. 
With those nine performances day 4 in heat 1 ended. Friday, will be the last day and of course the last chance in the first heat. The show with the theme of Participants' Choice will continue at 18.00 CET (21.00 with local
time) and will of course be aired by İçtimai TV via satellite and web.
Below you can also catch up on the heats you missed: 
Day 1 – First heat – World music theme 
Day 2 – First heat – Azeri music theme