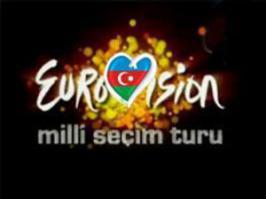 The 2012 host country Azerbaijan has started their national selection called Milli Seçim Turu with the first heat last night. The selection will have 7 more heats and each heat will continue five days.
This year more than 100 people submitted their participation to the national broadcaster İçtimai TV. A special jury minimized the entrants to 72 names and every nine competetors have been divided into eight heats. Every heat starts on Monday and finish on Friday. These weekly heats will begin at 18.00 or 19.00 CET (21.00 – 22.00 with the local time) every day and the participants will show their very bests in each stage. Please note that you can also watch the show all over again at 9.30 CET in the next day.
Monday: World Hits
Tuesday: Azeri Music
Wednesday: Eurovision Hits
Thursday: Performance Day
Friday: Participants' Choice
In each heats winners will be decided after televoting and jury combination of 50/50. The televoting starts with the live show every day.
The first heat started yesterday with Ramin Guliyev, Janana Zeinalova, Orhan Mirzayev, Kenan Gadimov, Anastasiya Bedritskaya, Amil Gojayev, Orhan Kerimli, Elnara Hasanova and Samra Rahimli singing the world hits.
Today second day of the first heat will be aired at 18.00 CET on İçtimai TV and the participants will perform the best national sounds in Azeri. You can watch the show via official website of the corporation on internet or satelite on Hotbird 13o (12015 MHz, Horizontal SR:27500, FEC:3/4).