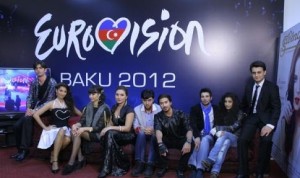 Azerbaijan's national final Milli Seçim Turu's second show of the first heat was held in Baku this evening. With the Azeri national music being the theme the same nine participants from yesterday's show gave it another go. From day 1 Samra Rahimli was clearly in the lead.  
Yesterday, the 2012 host country Azerbaijan started their national selection via its broadcaster İçtimai TV. Last night the 9 competitors; Ramin Guliyev, Janana Zeinalova, Orhan Mirzayev, Kenan Gadimov, Anastasiya Bedritskaya, Amil Gojayev, Orhan Kerimli, Elnara Hasanova and Samra Rahimli were performing World Hits, but today the regional sound of Azerbaijan was brought to stage as the theme were Azeri music.
The show kicked off with the presentation of a few well known names; Hüsniye Maharramova who announced the Azeri votes at the Eurovision Song Contest in 2009 and Leyla Aliyeva who had the same task in 2010. 
Tonight's host Leyla Aliyeva makes everyone aware of the very long precedure when she announces that we are all going to watch a long national final season in Azerbaijan which will last the whole winter. After a long sponsorship lists were advertised, the show finally begun with the results of the first show last night:
Samra Rahimli: 307 votes
Amil Gojayev: 207 votes
Orhan Kerimli: 175 votes
Ramin Guliyev: 124 votes
Kenan Gadimov: 83 votes
Elnara Hasanova: 60 votes
Anastasiya Bedritskaya: 25 votes
Orhan Mirzayev: 17 votes
Janana Zeinalova: 9 votes
The voting will continue everyday and as such it is still to early to tell what will happen. 
The first act in tonight's show was performed by Ramin Guliyev who was on 4th place after yesterday. It was mentioned that he likes to sing in pop and rock style and tonight he sang the song Her Yürek Bir Dünya Değil mi? in rock style. His choice of dressing formally in a suit will probably be discussed more than the song though.
Janana Zeinalova was the second act of day two. Her song Eger Beni Unutursan about love was in the style of tango. As she was at the bottom of the televoting she had something to improve – and she most likely also did.
The third act in more pop style was performed by Orhan Mirzayev, who was laying at eighth place before tonight's show. As he made everyone cry with his ballad yesterday, he was back with an up-tempo song called Leyla today. Unfortunately he was a bit out of tune and suprisingly he tried to call back the presenter to the stage (also named Leyla), but she kindly rejected this offer as it wouldn't be fair for other participants. 
After the first commercial break we continued with Samra Rahimli who was leading this heat till today's show. She will try her best to stay longer at the first place with today's performance where she was dressed quite mature looking to her age and her mimics were more Beyoncé style, but unfortunately she was out of tune clearly at some parts of her performance singing "… Yalandır".
The fifth act was performed by Kenan Gadimov who was 5th placed before today's show. His song Ana was dedicated to his mother and it was caugth on TV that several of the spectators were crying. The song was performed more in opera style which proves Kenan's powerfull voice. He also expressed that he was very excited to be at the stage and he stated his mother changed his mind about this song.
The next performance came by half Azeri half French singer Anastasiya Bedritskaya who expressed dissapointment with the current result (as she was on 7th place before today's show) during an interview at the beginning of today's show. She performed an up-tempo pop song with three female dancers behind her. Anastasiya's dress and music style reminded of her name sister Anastasiya Vinnikova, who represented Belarus at the Eurovision Song Contest last year. Bedritskaya succesfully sang her song Zaman delivering a good performance.
After another commercial break we continued with the performance of Amil Gojayev who was at second place before today's show. As he was in more "new pop-idol of Azerbaijan" style, he appeared on the stage with his up tempo pop song Bu Gece and showed everyone how assertive he is for the first heat of Milli Seçim Turu.
The nineteen years old talent Orhan Kerimli was the eighth act at the day two of first heat. He was on a respectable 3rd place before tonight's show. Unfortunately his microphone was not working at the first one minute of the song and we couldn't hear how he was singing. Orhan got a huge applause after his microphone started to work and he gave us a perfect sound of the very popular ballad Gel Ey Seher, which was sung by Polat Bülbüloğlu and Şebnem Ferah who was lately suggested in TRT's poll to represent Turkey in Baku. After the performance, Orhan was congratulated by today's host Leyla Aliyeva for his professional behaviour at the stage despite the microphone issue. 
The last performance of today came by Elnara Hasanova who was at 6th place before tonight's show. She simply rocked at the stage with her song in RnB style and she proved she has not yet thrown in the towel in this heat. 
With those nine performances the show for tonight ended. Tomorrow, the third day of heat 1 will continue with Eurovision Song Contest hits being the theme. That show will begin at 17.40 CET (20.40 with local time) and will of course be aired by İçtimai TV via satellite and web.