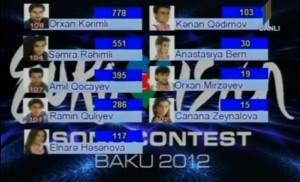 Azerbaijan's national final Milli Seçim Turu's continued with the third show of the first
heat which was held in Baku Wednesday evening. The same nine participants from the two previous days showed their skills when it came to Eurovision Hits. New in the lead was Orhan Kerimli.
Today's show started with the presentation of a well known name; Hüsniye Maharramova who announced the Azeri votes at the Eurovision Song Contest in 2009. The standings after day two were as follow:
Orhan Kerimli: 778 votes
Samra Rahimli: 551 votes
Amil Gojayev: 395 votes
Ramin Guliyev: 286 votes
Elnara Hasanova: 117votes
Kenan Gadimov: 103 votes
Anastasiya Bedritskaya: 30 votes
Orhan Mirzayev: 19 votes
Janana Zeinalova: 15 votes
With the suprising results Orhan Kerimli was congratulated for his great performance from yesterday, which took him from 3rd place to the top, despite microphone problems that ruined half of his performance. 
The first act in tonight's show was performed by Ramin Guliyev,
who remains on 4th place after yesterday's performance. As we said before rock was his favourite genre and when picking a Eurovision Song Contest entery he choose New Tomorrow by A Friend In London. This song represented Denmark in this year's contest coming 5th.
Janana Zeinalova was the second act of day three. As it was yesterday she remained in the bottom today which made her try harder to stay in the selection. Janana performed the United Kingdom entry from 2009; My Time which was performed by Jade, also ending fifth. She succesfully finished her duty dressed in a bride costume that is white and plently of red.
The third act in more pop style was performed by Orhan Mirzayev, who
remained at eighth place as he was the previous two days. Orhan performed the Turkish entry from 2008, Deli by the group Mor ve Ötesi receiving a 7th place. Today Orhan performed his song with two backing dancers and a female backing vocal who were playing the guitars imaginary. As he was a bit out of tune, his backing vocal helped bringing him back to the correct level.
After the first commercial break we continued with Samra Rahimli
who decreased to the second position after the first days leading position. Colorful dressed Samra performed Tina Karol's Show Me Your Love which gave Ukraine a 7th place. 
The Spanish entry from 2010 Algo Pequenito by Daniel Diges was performed by Kenan Gadimov who went down to 6th from 5th placing before today's show. The concept at the stage reminded us of the same performance in 2010 served by Daniel in Oslo.
A coincidence or not sixth song was once again My Time from Jade – this time performed by Anastasiya Bedritskaya
who remains at the 7th place as she was in the previous two days. Unfortunately this time Anastasiya sang the wrong lyrics and gave a less good impression.
After second commercial break we continued with the performance of Amil Gojayev
who was at third place before today's show. Amil performed Russian Dima Bilan's winning song Believe from 2008. He succesfully performed on stage with the help from – of course – a violinist.
The nineteen year old Orhan Kerimli was the
eighth act at the day two of first heat. Yesterday he climbed to the first place and today he brilliantly performed the English verison of Milim by Harel Skaat who represented Israel in 2010. 
The last performance of today came by Elnara Hasanova
who moved up to 6th place before tonight's show. She brought us a little bit longer back in time – to 1998, singing Imanii's Where Are You Now?
With those nine performances the show for tonight ended. Tomorrow, the fourth day of heat 1 will continue at 18.00 CET (21.00 with local
time) and will of course be aired by İçtimai TV via satellite and web.
Below you can watch today's performance of the current leader in this first heat, Orhan Kerimli – and catch up on the heats you missed: 
Day 1 – First heat – World music theme 
Day 2 – First heat – Azeri music theme