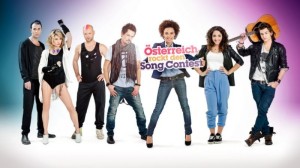 Österreich Rockt Den Song Contest is as it is called the Austrian national final and from today we can already get a glimpse of what Austria has prepared to rock the stage in Malmö. Among them we have a vast array of musical styles such as electro pop, soft rock or soul, all of them sung in English.
The line-up of the Austrian national final was presented a few weeks ago, but this morning the songs of the competing acts have been aired on the public radio station Ö3. A bit later, in Vienna's Saturn Tower, the official presentation of the five candidate songs to represent the country at the 2013 Eurovision Song Contest, took place.
When Falco Luneau was asked about his song, Rise Above The Night, he said that many people can identify with its lyrics about peace, freedom and love.
The Bandaloop presented a party song full of good humor entitled Back To Fantasy.
Natália Kelly's song is called Shine and it is about that moment in life when one is faced with a difficult situation and, despite everything, you should not give up. She says that if you believe in yourself and you have the courage to tackle life you will be able to shine. This song means a lot to her because it is her first released single and of course she is very proud of it, especially because she is the co-writer.
Elija's song is about a failed love affair and it is called Give Me A Sign. The song is composed and written by himself and he says that its lyrics, which talks about these moments when you are waiting for a sign from someone, is based on a true story.
Yela's song entitled Feels Like Home is about memories and friendship. She talks about this feeling when you meet your old friends after many years and you feel that nothing has changed.
The five acts will be singing their songs, but they will be also performing their own version of a former Eurovision winner hit as follows:
Falco Luneau – What's Another Year by Johnny Logan (Ireland, 1980)
Natália Kelly – Ne Partez Pas Sans Moi by Céline Dion (Switzerland, 1988)
The Bandaloop – Waterloo by ABBA (Sweden, 1974)
Elija – Euphoria by Loreen (Sweden, 2012)
Yela – Love Shine A Light by Katrina & The Waves (United Kingdom 1997)
Who will be representing Austria at the 2013 Eurovision Song Contest will be decided by the audience through televoting and by an international panel of experts on February 15th. The show will start at 20:15 CET and it will be hosted by Mirjam Weichselbraun and Andi Knoll.
After listening to all the songs, none of them makes you think that we have a winner here but, what song will convince the Austrian audience and the jury? The live performance will be crucial but in the meantime, the songs of the competing acts are available to be listened to on the Austrian Eurovision website. Do not miss the opportunity to listen to them now!
After the last place achieved by Trackshittaz in the first semifinal last year, this year's candidates have it pretty easy to improve that result. Below you can watch our 3D video of their performance singing Woki Mit Deim Popo at the 2012 Eurovision Song Contest. As always, we strongly recommend watching this video in 3D to enjoy it to its fullest, but if you do not have a pair of suitable glasses this can easily be turned off in the player below to watch in regular 2D.