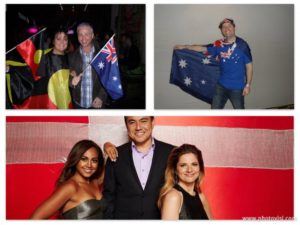 Australian interest in Eurovision has always been high and this year it reaches a new level. Many fans have travelled across the world and they will be treated to an Australian themed interval act in semi-final 2 with their superstar, Jessica Mauboy, taking part.
More and more Australian fans make the journey to the Eurovision Song Contest. The interest seems to grow each year as Australia has developed a special relationshop with the contest over the years. Lots of fans are in Denmark creating an amazing atmosphere with their many flags (both Australian and Aboriginal).
The broadcaster, SBS, broadcast the show in Australia and the commentary team of Julia Zemiro and Sam Pang bring their own unique views and personality to their reports.
This year the interest is even higher with an Australian themed interval act in semi-final 2. One of the top recording artists in Australia, Jessica Mauboy, will perform. She has written a song especially for this big occasion. It is called Sea Of Flags and is performed on stage with use of the Australian and Aboriginal flags.
Jessica has had many hits in Australia after being runner up in the Australian Idol tv show in 2006. Her main brand of music is r'n'b pop.
Today's family dress rehearsal for the second semi-final was attended by Danish crownprincess Mary, who is of Australian origin, together with some of her children. 
You can see Jessica perform at the first dress rehearsal at the semi-final 2 below. Subscribe to us on YouTube to get it and be notified about other great new videos.