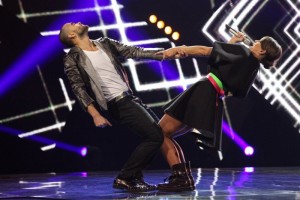 The longest selection of the season is coming to an end. Last evening took place a new Eurovizijos show and we found out that Attention is the song that will represent Lithuania at the 2014 Eurovision Song Contest though we still do not know who of the three finalist acts will sing it in Copenhagen.
Last evening was held the eleventh show of this year's Lithuanian selection for the Eurovision Song Contest where it was decided which will be their entry for Copenhagen. The show, which had been recorded during the past week, was aired last evening instead of Saturday as it had to be postponed due to changes to the schedule of the broadcaster LRT.
During the show, the three acts who have qualified for the final round of Eurovizijos performed all three finalist songs. Mia, Vaidas Baumila and Vilija Matačiūnaitė, sang their own versions of the three songs which have qualified for this final: Attention, It's All About A Boy and Take A Look At Me Now.
The decision was made by the four-member jury that was on set, three international music experts and the audience. The four experts who made up the national jury were Vytenis Pauliukaitis, Deividas Zvonkus, Ramūnas Zilnys and Edmundas Seilius while the international jury consisted of Brandon Stone from Germany, Liselott Bjork from Sweden and Valerij Prosirov from Russia.
Take A Look At Me Now was the song which received more votes from the jurors but Attention was the favourite of the audience meaning that the latest will be the Lithuanian entry at the upcoming Eurovision Song Contest.
Now we only need to know which of the three acts will eventually perform in Copenhagen. The mystery will be revealed next Saturday, the 1st of March, when is scheduled to be held the final of Eurovizijos 2014. Then, the three finalist acts will perform the song once again. The jury and the audience will vote for their favourite and then we will know which one of these three versions of Attention will represent Lithuania.
In fact, the winning entry has been written by one of the finalist acts, Vilija Matačiūnaitė, and her performance of the song was the one which got the biggest support. So far, she is just one of the three hopefuls and until next Saturday we won't know if Vilija herself will perform her own song in Copenhagen or it will be any of the other two finalists.
Below you can watch the performances from the three finalists singing the Lithuanian Eurovision entry Attention, each with their own style.
You might also like to read: