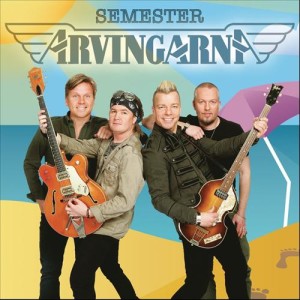 A short while ago the latest single from Arvingarna, who represented Sweden at the 1993 Eurovision Song Contest, was released on itunes and spotify. Now the physical CD single will be released and the band will be performing around Sweden all summer. 
Non Swedish Eurovision fans will probably not have heard much from Arvingarna since they with Eloise finished on a nice 7th place at the international contest in 1993, but the band has been active in their home country since with a total of 15 albums released so far.
The band, that consists of the two brothers Tommy and Kim Carlsson plus Lars "Lasseman" Larsson and  Casper Janebrink, has just released the new single titled Semester. It is already available as a download single on itunes and on the music streaming service Spotify just as the radio stations have started to play it. On Monday it will be released as a physical CD single and the same evening they will perform it in the amusement park Liseberg in Gothenborg as a part of the live TV transmitted programe Lotta På Liseberg.
Arvingarna has so far participated four times in the Swedish selection, Melodifestivalen. They won it in their debut year, 1993 and we last saw them competing for the Eurovision ticket in 2002 with a Thomas G:Son written song that however didn't make it to the final. 
A look at their tour schedule reveals quite a busy summer with performances all around Sweden up until the end of September. Time will tell if Semester will become a summerhit on the radio. In the video below you can see their first performance of this single, which took place in the TV programme Bingolotto and below that you can pre order the single, which you will then receive once it is released.