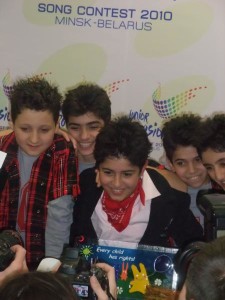 Armenia have won the 2010 Junior Eurovision Song Contest with the song, Mama, performed by Vladimir Arzumanyan.  This proved a popular choice in the Minsk Arena, Belarus.
Vladimir and his dancers gave a great stage performance. In a close and exciting voting it was down to the FYR Macedonia vote to confirm the winning song as Russia were leading up until the last set of votes were cast.
The junior version of the Eurovision Song Contest featuring 14 participating countries was a spectacular success at the Minsk Arena, Belarus.
All the artists made an amazing show in front of the watching millions at home and in the arena.  All acts were well received but there extra special applause for the songs from Russia, Latvia, Belgium, Malta and of the course the home nation, Belarus.
Alexander Rybak performed his recent release, Europe Skies, as part of the interval act.
Dmitry Koldun performed a special song, A Day Without War, for the UNICEF charity along with all the 14 participating acts.
All the previous winners of the Junior Eurovision then performed an impressive medley of their winning songs.
Congratulations to Armenia on their great success.