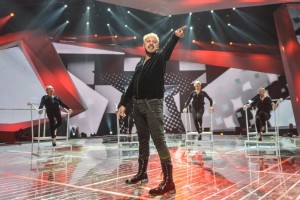 "I'm a joker", sang Anri Jokhazde in his rehearsal at the same time, hoping that his performance wasn't a joke and journalists will take him seriously.
Anri Jokhadze started his perfomance on a catwalk singing as an opera singer in Georgian. In couple of seconds the background had red sparkling balls as Anri started to sing. There were five girls in black on the stage. These girls were sitting in chairs which resembled stairs.
As Anri kept singing the five girls stand up and four of them were singing backing vocals. One of the girls was dancing making national Georgian moves on the stage. Anri Jockadze was singing on a silver loud speaker and playing the piano as well. 
The fire effects played well for the show.  Anri was a natural poser between run-throughs and the journalists snapped pictures of him making different moves.  He was in a black outfit and had chains on his trousers.  They perfomed good after fourth attempt as everything was adjusted and fire effects were synchronised with moves.
Anri Jokhadze promised to bring a donkey on the stage so we would hope that he didn't joke and will carry out this idea on the stage.
Stay tuned for more Georgian news on Eurovisionary.