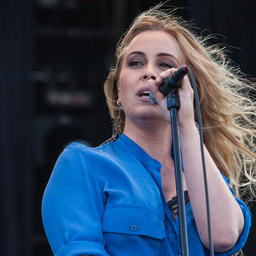 Both fans of Anouk and of Dutch Eurovision probably choked on their coffee this morning when reading that rock star Anouk has apparently confirmed her participation as the Dutch entrant at the Eurovision Song Contest in Malmö next year. The statement has finally been officially verified by TROS, and so the first entrant for 2013 is already known.
The Netherlands have beaten both Switzerland and Albania in being the first country to select their entry, when an unofficial announcement by artist Anouk was posted onto her Facebook fan page stating that she indeed will be the Dutch entrant at next year's Eurovision Song Contest in Malmö. The announcement ended months of speculation. Her participation has been so tantalizingly close for many Dutch fans, who feel that they have never been closer with a realistic chance of making the final next year, if the responsibility was to be bestowed upon Anouk. The decision to send Anouk will hopefully end the results drought for the Netherlands, the first time they would have made a final since they were first incepted in 2004.
What began as a flippant comment made by former Nationaal Songfestival collaborator John De Mol in the Dutch media concerning alledged contact with the fiery Dutch singer snowballed. Anouk's name had been mentioned previously in conjunction with the national selection process, but remained purely hearsay, with nothing ever materializing. Over the past months, Anouk and TROS seem to have done most of their initial communication via various media, with almost weekly stories surfacing about TROS determined to continue with their national final format used in recent years amid reports from an incensed and adamant Anouk that she did not see the need to subject herself to the process, claiming to have a "killer song" for Eurovision lined up. Gordon caued futher speculation when he and his group L.A. The Voices submitted two entries to the Swiss selections, stating that they had no real chance of success in their native Netherlands, with TROS already having made their minds up about sending Anouk.
And so the dream of many to see Anouk on the stage in Malmö has finally come true, with TROS being able to confirm the rumour. Congratulations to the Netherlands – this is the news we know many of you have been waiting for. TROS also confirm that an entry will be chosen internally by February for the artist. Let's see if the star behind the pan European hit Nobody's Wife will be able to improve Dutch fortunes. Their chances have never been better!