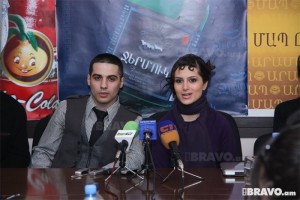 Things have been a bit quiet in Armenia in terms of its national final. The official broadcaster, ARMTV, has now revealed another change to the date of the national final. The song titles have also been announced by the broadcaster.
According to the latest announcements, the Armenian broadcaster has made another change in the process as the national final date was moved once again to another date from 26th February to a date that has yet to be published. The reason for this delay is thought to be the death of Emmy's father.
Therefore, the song titles of the participating acts which will be performed by Emmy and Mihran, have also been revealed by ARMTV, the composers had been revealed before:
•    DerHova – Ayo
•    Vahram Petrosyan – Hi
•    Apricota – Boom Boom
•    Martin Kesici – Goodbye
EuroVisionary will bring more details of latest changes in Armenia as soon it is revealed.