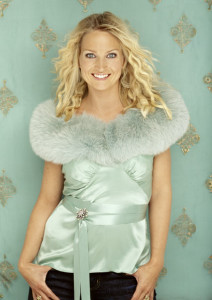 It might be a special Danish thing, but just like Kirsten Siggaard participated at the Eurovision Song Contest shortly before giving birth, Annette Heick will be touring with her Christmas show up until three weeks before her second child is set to arrive.
The tour starts next week and ends on December 16th. It is a Christmas tour where she will be singing classic Christmas songs together with Etta Cameron, James Sampson and Jesper Lundgaard. There might be a few moments to talk about the Dansk Melodi Grand Prix as James and Annette both participated in the 2007 Danish final. James came second with Say You Love Me while Annette Heick ended last with zero points for her Schlager song Copenhagen Airport. It was her second attempt to reach the Eurovision Song Contest as she also participated in the 1991 Dansk Melodi Grand Prix where she came fourth with Du Er Musikken I Mit Liv, a duet with Norwegian singer Egil Eldøen. Etta Cameron is the mother of Debbie Cameron who represented Denmark at the 1981 Eurovision Song Contest together with Tommy Seebach on his Krøller Eller Ej.
Annette Heick is due to give birth just three weeks after the tour ends, but the thought of an early birth doesn't make her nervous. "I am just looking forward to these concerts so much", she says and adds that her and her husband already know that it will be another boy. They already have one son, 4-year-old Eliot.
In 1988 Kirsten Siggaard went on stage in the Eurovision Song Contest, achieving a third place for Denmark with the song Ka' Du Se Hva' Jeg Sa'. Her pregnancy was very much shown and created a lot of fuss about whether or not it was safe to do. That the Contest that year took part in catholic Ireland didn't make the situation better.