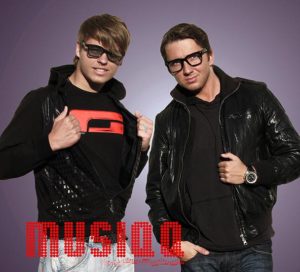 Tonight's final was brought to us from the culture house, otherwise known as Jūras Vārti from the bustling seaside resort of Ventspils. After a close race, the combined choice of the Latvian viewing public and the jury showed that Musiqq was the favourite and the lucky act to snatch the ticket to Düsseldorf.
Just who would Latvia choose to follow in the footsteps of Aisha? With 12 diverse acts to choose from this evening, viewers were certainly spoilt for choice and the winner of the 12 acts tonight was as good as anybody's guess! Would viewers follow Iceland's example and make the mourning of Mārtiņš Freimanis a Eurovision affair by awarding Blitze the winning ticket? Or would Latvian superstar Lauris Reiniks finally get the chance for revenge, improving on FLY's placing from 2003 (also with Mārtiņš Freimanis)? Would Ivo finally get the opportunity to sing for his country after numerous previous attempts? One thing is certain, although no longer with us, Mārtiņš was definitely with us in Eirodziesma tonight in spirit.
The songs:
Song 1: Evija Sloka – Don't Stop The Dance  (Māris Sloka/Artūrs Palkevičs/Guntars Račs)
Evija's song is another that is bordering on the childishly simple, and at times crosses into Shania Twain territory with country twangs and even an appearance from the fiddle. The song would have been even better, had it been spared the horrid electric guitar solo mid way.
Song 2: Elīna Krastiņa-Grence – Look Back At Me Again (Elīna Krastiņa-Grence)
The first notes make you instantly think of the Doobie Brothers' Long Train Running, but the song soon launches into a completely different direction, proving that it can stand on its own two feet. Elīna sings like only a spurned woman can, in this little pop gem.
Song 3: Ivo Grīsniņš-Grīslis – Cinderella  (Ingars Viļums)
Could the evening have a fairytale ending for Ivo? The first few bars don't exactly intrigue the viewer, but the somg soons perks up with a chorus where Ivo's falsetto sounds divine. The only gripe about this one is that the chorus can seem quite tedious after about 10 run throughs, but he's forgiven. Another very well crafted piece of pop music that should do well.
Song 4: Triānas Parks – Upside Down (Aivars Rakovskis/Agnese Rakovska)
A a rock/alternative act to shake things up. Snarling guitars give the song plenty of bite and the singer's almost aggressive vocals merely add to the character of the number. It's easy to hear why they had reviewers raving stateside. This starts with a bang and before you know it, ends with a bang too!
Song 5: The Secretz – Summer Night (Edgars Viļums/ Santa Dzalbe)
Three pretty young girls perform a lightweight pop number. This song has loads going for it – bright and breezy, with a shameless flirt with reggae, Summer Night is lightweight pop at it's best. Infuritatingly simple, almost inane is what makes the chorus of this song so lethally effective and once you get it in your head, you'll have a hard time getting rid of it!
Song 6: Grupa Pieneņu Vīns – You Are (Jurijs Koškins/Evilena Protektore)
Funky from the offset, singer Evilena has a voice that you can just hear would suit jazz perfectly. Racy, quite slinky as she whoops and trills this hommage to the one that makes her feel the way she does.Slightly reminiscent of Laura's Addicted to You from 2002 in vibe.
Song 7: Jānis Stībelis – Let It Be Me  (Jānis Stībelis)
Jānis' slightly husky voice carries the tune of Let It Be Me nicely, a competently written piece of pop that flows along very smoothly. A strong, radio friendly chorus, and Stevie Wonder harmonica too, although not a dance track, the song is definitely uptempo, whose only downside is the way it suddenly fizzles out at the end.
Song 8: Oksana Ļepska – Live On! (Oksana Ļepska/Oļegs Borošņevs)
The song starts of all sultry and atmospheric, with the piano building up making for a nice effect, before the chorus, albeit fleeting, kicks in and the song ends up sounding like a latvian Leona Lewis. It's extremely easy on the ear, with not one, but two key changes before she drifts off into an ending that sounds like she's auditioning for a choir. Quirky and very different.
Song 9: Musiqq – Angel in Disguise (Marats Ogļezņevs)
A moody intro quickly dispells any comparisons to the Proclaimers. Very slickly produced, with pulsating beats and a driving rhythm, the song is very danceable. Very modern sound, with vocals that almost become soulful towards the end. Another top notch number.
Song 10: Blitze – Hop (Mārtiņš Freimanis)
At times, the voice of the male singer sounds uncannily like that of Renars Kaupers (Brainstorm). The melody has all the trademarks of Freimanis' craftsmanship – guitar led, a punchy, jangly chorus, and the overall sound could best be described as slightly quirky and very jaunty.
Song 11: D-Family – Daylight  (Andris Freidenfelds/Ģirts Lūsis/Normunds Jakušonoks/Valdis Čirksts)
From the first tones, you hear that this is a heavily synth led euro-dance tune. It has a lethal chorus which gets straight into your head and stays put. The voices of the male/female duo suit each other perfectly. Extremely danceable, this will no doubt have many dancing round their handbags in Riga discos.
Song 12: Lauris Reiniks – Banjo Laura (Lauris Reiniks)
Well, given the title, you had to expect the banjo to feature heavily. This is what Lauris does best – pop confection, that is just made for the radio to be lapped up by the hordes. He could have spared us the la la la several places in the song, but this stomping tune will no doubt gain from Lauris' considerable fanbase.
At the song to represent Latvia at the 2011 Eurovision Song Contest is…… Musiqq. They will in Düsseldorf sing the song Angel In Disguise.