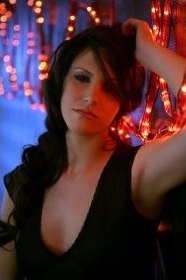 RTCG today announced that Andrea Demirović will be the artist to represent Montenegro in Moscow. The broadcaster also announced the song that she will sing, Just get out of my life.
The song is the first Montenegrin entry to be sung in English. RTCG has made the mp3 file of the entry available to download here:
Just get out of my life
Andrea Demirović (Serbian: Андреа Демировић)  was born June 17, 1985. Her stage name is Andrea.
She first came to the attention of the public at the Sunčane Skale festival in 2002. She has since competed in many regional festivals. She has also competed in the 2005 Serbia-Montenegro national final. Her first album, Andrea, was released in 2006 by the City Records label. There's another Eurovision link, in that the first single from her new album is La reina de la noche, a cover of Mirela's Mision Eurovision song from 2007.