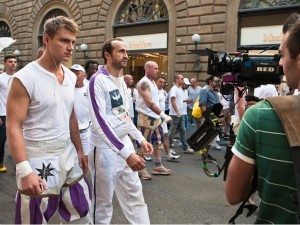 In front of the wonderful frontage of the Santa Croce church, the historical soccer semifinal is being played between the Reds and the Whites. Slaps, punches, kicks and blood were the ingredients that stunned the audience at that time and so will it be this time – with Alexey Vorobyov.
The filming of the Italo-Russian co-production I Calcianti is taking place in Florence under the orders of the Tuscan director Stefano Lorenzi who has already filmed many documentaries such as Nunca Mais, Firenze Città Aperta, Genova Senza Risposte.
The film, that mixes humor and bitterness, addresses issues such as tradition, competition, pain and joy. Florentine soccer is the historical backdrop to the adventures of the "calcianti", the players, who were the heroes from that time whose lives were full of contradictions. The history of this ancient sport tells the true soul of Florence: the tradition and the genuine humanity of its people.
The historic Florentine soccer is a battle with few rules where the players look like gladiators. It is an ancient, spectacular and violent sport with a mixture of rugby, wrestling, boxing and martial arts but, in this film, the players also cry, laugh, love, hate and dream.
In the plot of the film the characters are united by the same passion, but they all have different stories: the story of a father and a son, that of a couple with a newborn baby and a pushy father, the story of a divorced man, the adventures of a prisoner or the story of a Chinese man who wants to be Florentine. It is a very spectacular comedy, especially when the matches are played and the physical confrontation between all the characters gets tough. It is a film with a fast-paced, where all emotions are touched: we laugh, we suffer, we rejoice and we are moved.
Among all the characters we find Sergio Bartoli played by Alexey Vorobyov. He is a young marble cutter who has to make his debut on the field with the White team. His mother died not long ago and he lives with his father, Duccio, who has difficulty going through mourning and has a lot of expectations of his son. Bea, his girlfriend, will help him to drive out the ghosts and become a man.
Alexey Vorobyov, who represented Russia at the 2011 Eurovision Song Contest with Get You, combines successfully a singing and acting career. He has starred several movies and he has written some soundtracks for Russian films. Thanks to his great athletic skills he makes his own stunts in all of his movies including jumps from the seventeenth floor, car crashes or scenes with fire what make him the perfect actor for this film.
Besides Alexey, among the protagonists are actors such as Guido Caprino, Francesco Scianna, Sergio Albelli, Francesca Inaudi or Giulia Michelini.
Below you can watch the movie's trailer and also a video in which Alexey speaks (in Russian) about his experience from the film set: