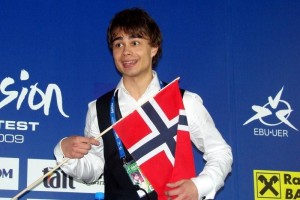 Alexander Rybak can apparently do no wrong in Russia. Having shot to stardom following last year's victory, the young violinist has gone on to make quite a name for himself in many of the former Soviet republics, including naturally Belarus, his country of birth.
He joined the who's who of the Russian entertainment industry on friday night in Moscow for the annual MUZ awards, the Russian equivalent of the Grammys. Alexander also performed during the show, as did Dima Bilan, promoting his new duet with pop diva Anastacia, called Safety. Alexander was nominated for three categories: "Artist of the Year", "Newcomer of the Year" and "Hit of the Year". According to Dimitrij Konov, head of Universal Records Russia, this makes Alexander unique. No artist has at any one time been nominated in so many categories.
Alexander may have lost out to Dima for the "Artist of the Year" award and to Philip Kirkorov for the "Hit of the Year", but he did manage to bring home the much coveted prize for "Breakthrough of the Year". Speaking to NRK, Rybak tells of his great surprise at winning the award, something he hadn't counted on. Rybak is presently riding high in Russia with his contribution to the film Black Lightning, with a song entitled Я не веру в чудеса, which incidentally is also subject to accusations of plagiarism for bearing more than just a passing resemblance to Aerosmith's I Don't Wanna Miss A Thing. Alexander is however taking the accusations in his stride, stating that they merely go to prove his growing popularity and superstar status in Russia.
Links
Alexander Rybak's official home page
In my view
A follow up to last year's Fairytales is scheduled for imminent release, entitled No Boundaries. It will be extremely exciting to see whether Alexander manages to replicate the success of last year's album without the huge exposure he received after winning in Moscow. One thing's for sure; the young artist is no doubt looking at a very busy summer indeed!

The opinion expressed in "In my view" are those of the author and are not necessarily the one of EuroVisionary.com.