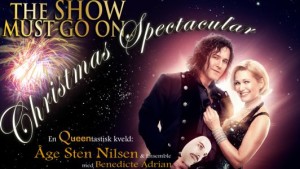 Åge Sten Nilsen and Benedicte Adrian both represent two genres that are pretty far apart from one another, rock and avantgarde pop. In a surprise collaboration with another former Norwegian entrant, Benedicte Adrian, Christmas comes early for both Queen and Eurovision fans in the form of a seasonal edition of the Queen tribute show We Will Rock You.
Both artists have represented their native Norway at Eurovision in the space of their careers, which in many respects, became their breakthrough. In 2005, Åge Sten Nilsen, as frontman of Wig Wam, gave Norway another top 10 placing with the glam rock anthem In My Dreams. Benedicte Adrian together with Ingrid Bjørnov as Dollie De Luxe performed the futuristic Lenge Leve Livet for Norway in 1984, three years prior to their mammoth success with the musical Which Witch. With a shared passion for opera and rock, it was merely a matter of time before the two stars collided. And collide they did, just in time for Christmas, with spectacular results.
Frontman Glam Nilsen has enjoyed immense success with his Queen tribute show The Show Must Go On. With his penchant for melodic rock and an agile vocal ability many are envious of, it was a match made in heaven. The show has been running for five years and such was its success, that Nilsen managed to secure a contract to take the show to Las Vegas next summer. Parallel to the Queen tribute, jack of all trades Nilsen has also been performing with a Michael Jackson tribute The Thrill of Michael Jackson, playing to full houses night after night at the Edderkoppen theatre in Oslo.
Before setting out on the road with the Michael Jackson tribute in 2013, Nilsen had time to draft in Adrian to throw a bit of festive sparkle over the special Christmas edition of The Show Must Go On. It premiered last week at Chat Noir in Oslo, and with over a dozen performances, most should have the chance to secure themselves a ticket to see a show that has received rave reviews. Adrian and Nilsen will combine their talents to treat concertgoers to such well known numbers as Thank God It's Christmas, A Winter Tale and of course, the highlight, Barcelona. With each performance lasting 1 hour and 45 minutes, the ticket price of NOK 495 (EUR 67) not only gives punters value for money but also the opportunity to see these two unique performers together on stage for the very first time. Tickets can be purchased through the Chat Noir website.