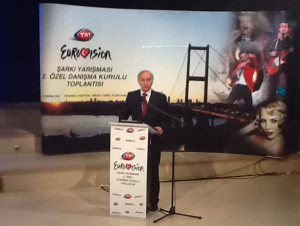 Today a special meeting with an advisory board was held by the Turkish broadcaster. Each participant got the chance to tell their opinions and as such different strategies are in play for TRT to select their representative for the 2013 Eurovision Song Contest.
As previsouly mentioned TRT's newest strategy for the 2013 Eurovision Song Contest came to happen today in form of a special meeting between the TRT board and a special advisory board. The meeting that took place at the Mesut Cemil Studio of İstanbul Radio, was also broadcasted by TRT's webtv allowing the Turkish fans to follow it.
The meeting started in the early hours of the day, where a big number of invited participants attended and continued till 18.30 local time (17.30 CET) with TRT's Eurovision commentator, Bülent Özveren being the host. At the meeting, all the participants invited got the chance to share their opinions with TRT's board.
As it was planned, General Director of the broadcaster, Mr. İbrahim Şahin and head of music department Deniz Çakmakoğlu made the opening speech, where they also explained the details and reasons of their previous internal selections and continued telling that why they were holding this meeting.
After technical details of the meeting were introduced by Deniz Çakmakoğlu, İbrahim Şahin started his speech. Mr. Şahin added that 'Two heads are always better than one. We are helding this meeting to get their opinions that all will be taken in care.  He continued telling that the contest had historical connections and this situation will continue for a while.
After it is told that the opinions from the advisory board will be used by TRT's board to make a wise decisions, the participants had their say in an alphabetichal order.
Sertab Erener (2003 representative, winner), "There should be a national final to pick next representative as people (televoters) are a major fact at the contest and therefore we should encourage the younger talents to attend and make the contest a part of everyone in Turkey." She also added that  "If there would be another internal selection, there should be more time allowed to the representer to make his/her act a 'hit'. 3 months are never enough to bring both a good song, a videoclip and sorting the choreography. It is not important how many votes we get from neighbourly voting, getting more points from other countries is more effective on our result". Later, Sertab's manager added that 'Everyway That I Can's latest arrangement and choreography at Riga brought the success, so the song and choreography should be good enough to be remembered at the end".
MFÖ's Fuat Güner (1985 and 1988 participant) told that the Eurovision Song Contest was not a contest anymore, and he continued "It is a big television event, the song is not a major fact as the visual show is now more important. A supporting music company of the representative and press conferences have a massive effect on the result".
Ömer Önder, who has been announcing the Turkish voting results for 2 years, told that the contest gained its reputation back in the last 10 years and that the current internal strategy from TRT was the best in use, there should not be made any change. A famous artist Sezen Cumhur Önal supported Ömer Önder's opinion and also added that everyone should support TRT's decision, especially in this period where music companies are being broken by the economial crisis and therefore quality acts are not being composed. Another music authority supported the internal decision as long as it is in accordance with EBU's rules. Some composers and songwriters were behind the idea for a national final where famous singers and songwriters should be encouraged to participate and the winner being found by televoting.
The closing speech and the last evaluation was made by İbrahim Şahin again. Mr. Şahin told that Turkish medias has no tolarence to a degree without playing to win and this takes managers into a fire. 'However, famous singers stepping back when we send an offer to participate. They are worried about that their reputation will be decreased. United Kingdom sends its famous acts, but there's nothing happenning (such in Turkey) even when they're getting lower placing than us.   
About TRT's latest internal selections, he told that they are trying to select more international faces, who are speaking foreign languages fluently as this is an international contest.  
According to Mr. Şahin, if there would be a poll today about the next strategy about Turkish participation, it would be resulted as:
– 13 participants voted for having internal singer selection (Only the song should be decided by televoters, not the singer)
– 13 participants voted for having internal song selection (Only the singer should be decided by televoters, not the song)
– 9 participants voted for a complete national final
– 2 participants voted for that anything above would be acceptable.
At the end of the meeting, Mr. Şahin said that 'We are holding this meeting to make a wise decision at our future participation. "We are planning to get more points from the countries we don't get much from, such as Malta" and he jokefully continued "If
you hand out around 100 mobile phones to such a small country, you get
around 4-5 points. I hope other countries takes my advise".
As it was an advisory meeting it is announced that TRT will give its latest decision about their strategy after their board will evaluate the opinions that were discussed at today's meeting.
You can also read the complete participant list for today's meeting by visiting our previous article.
Turkey participated for the first time in 1975 and and the country's first and only victory came
after an internal selection in 2003, with a memorable performance of
Sertab Erener and her belly dancers. By then, the public broadcaster
continued their tradition up to now, except from 2005.
Below you can
watch last year's representative act, Can Bonomo – Love Me Back, in our 3D video. We recommend watching the video in 3D to enjoy it to its fullest, but
should you want to this can easily be turned off in the player below
giving you a standard 2D image. If you do not yet have a pair of suitable glasses we recommend getting hold of EuroVisionary's 3D glasses.